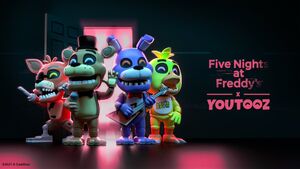 Youtooz Collectibles are collectible figures based on the Five Nights at Freddy's characters, created by Youtooz. Each figure is around 4-5 inches tall.
List
Five Nights at Freddy's
Series 1 line consists of Bonnie, Foxy, Freddy Fazbear, and Chica.
Series 2 line consists of Glamrock Freddy, Vanny, Roxanne Wolf, Montgomery Gator, and Glamrock Chica. The augmented reality game, based on this glamrock wave, was released.
Fazbear Fanverse
It was confirmed that there will be a Fazbear Fanverse wave of YouTooz collectibles, including Popgoes the Weasel, Candy the Cat, and Ignited Freddy.
Trivia
From Freddy Fazbear's store page, Gabriel's name is used for the "colorway" section of the page's bio,[1] revealing evidence that the soul who haunts Freddy Fazbear may be identified as Gabriel, one of the five Missing Children Incident victims. In Freddy Fazbear's Pizzeria Simulator, Gabriel's name was first seen in one of the tombstones from the Completion Ending's post-credit image.
Bonnie incorrectly has freckles on his cheeks, however, this could have just been a slight design change.
Gallery
Classic Animatronics
Glamrock Animatronics
References