Not what you were looking for? See Endoskeleton (disambiguation) or Freddy (disambiguation).
"This mysterious endoskeleton will appear at random when closing your monitor. If he is in your office, open your monitor again to make him disappear."
— Custom Night description, Five Nights at Freddy's: Sister Location
Yenndo is a Funtime endoskeleton and a minor antagonist from Five Nights at Freddy's: Sister Location. Despite his small role in the main game, he also appears in the Custom Night. Yenndo is an endoskeleton strongly similar to Funtime Freddy's.
Physical Appearance
Yenndo is very similar to Funtime Freddy's endoskeleton (whose full body can be seen more clearly from the "Making of Freddy" section in the Extra menu), with complete lack of a suit-shell, to reveal very detailed endoskeleton wirings, somewhat resembling human muscle layers, although, he has three differences - a lack of inner face-plates, both hands (while lacking a hand-puppet), and yellow irises (rather than Funtime Freddy's hazel/blue). If observed closely, his nose looks different compared to Funtime Freddy's, being slightly flatter. Yenndo doesn't seem to wear a hat, nor hold any form of microphone, though, he does appear to have an upside-down screw at the top of his head. This screw could be reminiscent of a hat.
Unlike Funtime Freddy's own endoskeleton, Yenndo's appearance somewhat resembles that of a human, despite his similarity to one of Funtime Freddy's images from the "Making of Freddy" section in the Extra menu, where his full, visible endoskeleton is shown.
Role
Main Gameplay
When using the Flash Beacon in the Funtime Auditorium on Night 3, the player has a very rare chance to encounter Yenndo, instead of Funtime Foxy. When encountered, he will remain stationary, with three total positions, rather than twitching, unlike Funtime Foxy. Yenndo appears to maintain eye contact with the player, and will not attack them. However, if the player fails to use the beacon while encountering him, Funtime Foxy will still attack them regardless.
Custom Night
"I assure you, I am very real."

The contents of this article or section are from a non-canon source, and thus, have no bearing on the official lore of the series.
"Appears at random in the office; open the monitor to make him disappear."
— The Freddy Files, page 135,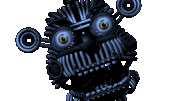 Yenndo acts very similar to Golden Freddy from the first and second games. At random moments throughout the night, he will appear on the right side of the Private Room after closing the Monitor. Again, similar to Golden Freddy, Yenndo completely disregards the Doors, appearing regardless of whether they are open or closed. When he is in the Private Room, the oxygen level will quickly deplete. The moment the player sees Yenndo, they must activate the Monitor again. Doing so will cause him to vanish, and avoid a swift death.
Challenge modes where Yenndo is active are listed as follows:
Weirdos
Funtime Frenzy
Freddy & Co.
Top Shelf
Golden Freddy
Audio
Audio
Description

WARNING:
The audio is loud and/or startling!

The sound that Yenndo emits when attacking the player, from the Custom Night. This screaming sound is shared with Funtime Foxy, Bonnet, Bon-Bon and Ballora in the Private Room. It is also shared with Ennard from the main game.