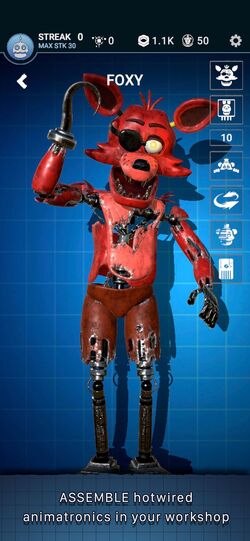 The Workshop is a menu featured in Five Nights at Freddy's AR: Special Delivery, where the player can customize their own animatronics and deploy them. In addition, the player can rotate the animatronic's model for every view.
Sections
Deploy
The Deploy menu section allows the player to either salvage their animatronics or send them to a friend. However, the section is disabled if the animatronic's condition is currently at 0%. The condition can be repaired with Parts.
Salvaging - When enabled, the animatronics will collect some Parts while walking around the map. They can be sent if necessary, and will be recalled to return the animatronics to the Workshop menu.
Sending - The player can send the animatronics to one of their friends. If the animatronic successfully attacks the player's friend, the player will be granted some parts.
Assemble
In the Assemble menu section, the player can assemble Endo-01 with various items to customize, and can only have a number of Endo Slots, where the endoskeletons will be placed. Once the tutorial is finished, the player will begin with one slot and able to unlock more as they achieve higher streaks.
Trivia
Bugs
Occasionally while viewing the workshop, there are bugs that can often or rarely happen.
Workshop Animations
The following section is rather large and has been truncated for ease of page viewing.
To view it, click the [show] tag.
---