Not what you were looking for? See Animatronic (disambiguation), Baby (disambiguation), or Bonnie (disambiguation).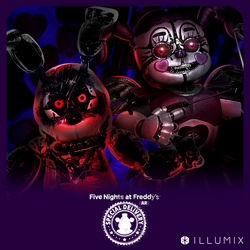 "It'll steal your heart away!"
— Summary, FNAF AR Twitter Account
The Valentine Animatronics are Valentine's Day-themed animatronics that were introduced in Five Nights at Freddy's AR: Special Delivery for the Heart Stoppers event that started on February 4, 2021.
Physical Appearance
They are counterparts that bear some identical resemblance to the original animatronics, albeit designed with special traits based on Valentine's Day.
Animatronics
Heartsick Baby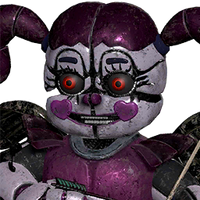 Heartsick Baby is Circus Baby's Valentines Day variant, added on February 4, 2021. She is Circus Baby's second skin, after Broiler Baby.
Heartsick Baby's hair, dress, skirt and shoes are recolored to a purple-pink color. She has black eyes and red pupils. Her cheek buttons are turned magenta and are reshaped to look like hearts, with more heart emblems on both her knees and shoes. The scooper on her belly now has a heart-shaped hole accompanying it. Heartsick Baby's design is akin to the famous Valentine's Day mascot Cupid, having black angel wings on her back, along with a black bow and arrow which she holds on opposing hands. There are also two arrows that appear to have been shot into Heartsick Baby's legs. There's also small tears on her face, legs and skirt.

Black Heart Bonnie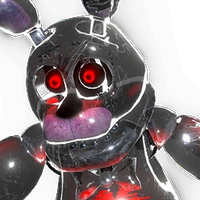 Black Heart Bonnie is Bonnie's Valentines Day variant, added on February 4, 2021. He is Bonnie's third skin, after Chocolate Bonnie and Easter Bonnie.
Black Heart Bonnie appears to be clear color, made of what seems like transparent glass to the point where the shadows of his endoskeleton can be visible. One promo poster of him shows that blue and purple light can emanate from him. Alongside the black eyes and red iris, Black Heart Bonnie has a pixelated, static-filled red heart appearing in the center of his body. Parts of the glass on his back, chest, right arm, right leg and right ear have been shattered.

Audio
Warning: The audio clips from the following list are loud!