After 3 years we have names. 2 names. LET'S GET INTO IT!
Elizabeth Afton-the daughter. Appears to be a happy girl,dressed in pink and blue withe black shoes with green eyes and a red bow and blonde hair.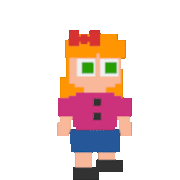 Michael Afton-the probable oldest. Appears to have brown hair and blue eyes. Wears a purple sweater and blue jeans(would you call those jeans?).
????? Afton-Most likely the bite of 83 victim. Appears to be an emotional wreak....appears to have brown hair,black eyes,a black and grey striped shirt and blue shorts.