"I guess you forgot about me..."


This article refers an idea or a list of content that has been scrapped out for various reasons.
They can be presented in the decompiled files, concept designs, or other non-interactive media.
A list of Five Nights at Freddy's merchandise products that only exist in promotional or concept images but ended up not publically released.
Rubies' Costumes
Rubies, the company behind the creation of official Five Nights at Freddy's costumes, reveals a brand new set of costumes and apparels, including the security guard uniform, a Freddy headpiece, the electronic Freddy mask, an oversized Freddy mask, another Freddy mask variant with fur, and a Freddy hoodie.
They were scheduled to be released on October 2020 but never happened. It is unknown if they were either delayed due to the COVID-19 pandemic or ended up being cancelled.

Just Funky Products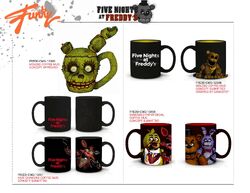 On 2016, the Just Funky company reveals 18 pages of multi-various product concepts that were abandoned later on, including animatronic head-shaped mugs, glass coasters, steel water bottles, travel mugs, and so on.

Animatronic Inflatable Suits
These inflatable child-sized suits based on Freddy Fazbear and Bonnie were first discovered in 2019 and were created by PureCostumes. They were mostly cancelled and never released.
Good Stuff's Prototype Plushies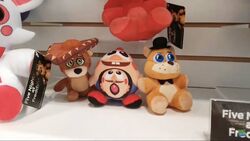 The old unreleased prototype dolls of El Chip, Freddy Fazbear, and even Egg Baby were made by Good Stuff.

Figural Candy Tins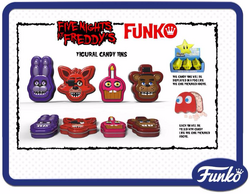 The figural candy tins are entirely unreleased products originally planned by Funko. Four kinds of candy tins are based on the animatronic characters, including Bonnie, Foxy, Mr. Cupcake, and Freddy Fazbear.
As seen from the right side of the concept image, the photos of Super Mario Bros.'s super star candy display box and Pac-Man's ghost candy tin are used as references for the product's concept.

Large Face Buttons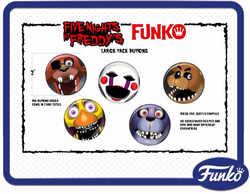 A total of five assorted large face buttons are not published, as they were originally made as a concept example by Funko. Intended to be measured around 2 inches or 1 inch in size, the buttons include Foxy, the Puppet, Freddy Fazbear, Withered Chica, and "unwithered" Withered Bonnie.

Squishme BB, Freddy Fazbear, and Withered Bonnie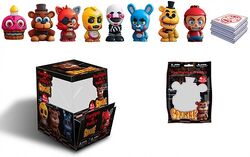 Freddy Fazbear, Balloon Boy, and Withered Bonnie had Squishme toys planned for the Squishme line, but were never included upon the toy line's official release. It is unknown if these toys were completely abandoned or left forgotten by the company.

Blacklight Slime Foxy and Nightmare Cupcake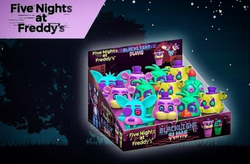 The Blacklight Slime toys for Foxy and Nightmare Cupcake were seen from Just Toys' announcement image on Instagram. They were never found in any stores whatsoever.

NFTs
Originally, as revealed on May 15, 2021, the NFT (non-fungible token) products based on the Five Nights at Freddy's series were considered. The next day, however, Scott Cawthon swiftly cancelled the deal upon realizing that the NFT company turned out as a scam. Even before this, they were criticized by fans due to being environmentally unfriendly.[1]
References