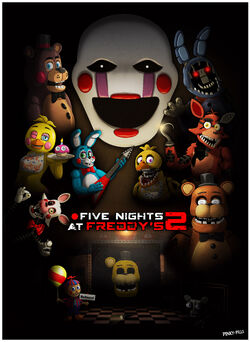 "They've spent a small fortune on these new animatronics, uh, facial recognition, advanced mobility, they even let them walk around during the day. Isn't that neat? But most importantly, they're all tied into some kind of criminal database, so they can detect a predator a mile away. Heck, we should be paying them to guard you."
— Phone Guy, Five Nights at Freddy's 2
The toy animatronics are improved versions of the original animatronics, designed by Fazbear Entertainment to replace the withered animatronics for the re-opening of Freddy Fazbear's Pizza until November 1987. Their endoskeleton identity is Endo-02.
The toy animatronics debut in Five Nights at Freddy's 2 as the main antagonists, along with the withered animatronics. They later appeared in Five Nights at Freddy's 3 and Five Nights at Freddy's 4 as cameos. They returned in Ultimate Custom Night, Five Nights at Freddy's VR: Help Wanted, and Five Nights at Freddy's AR: Special Delivery.
Physical Appearance
Hence their name, their suit material appears to be made of plastic, as if they were a life-sized toy. While all models notably sport round rosy cheeks, the toy animatronics based on the original cast have bigger eyes, fully functional fingers, wedge-shaped feet, eyelashes, and facial appearances reminiscent of a ventriloquist doll.
Similar to the old withered animatronics, they share the same endoskeleton, except for the Puppet, Balloon Boy, and JJ, which is Endo-02, however, none of them are visibly seen except for Mangle.
Functionality
Among their main modifications, the toy animatronics were implemented with an advanced mobility and facial recognition systems, and supposedly walk freely during the day. They are linked to a criminal database, in order to protect children from a possible predator a mile away. The toy animatronics also have interaction towards the places through sounds.[1]
Supposedly due to facial recognition system malfunctions, the toy animatronics behave differently towards children and adults; they interact normally with children, while simply staring at adults. They also behave nearly aggressively towards the staff members.[2]
Animatronics
Toy Freddy

Toy Freddy is a toy counterpart of Freddy Fazbear, lead vocalist, and main mascot of 1987's Freddy Fazbear's Pizza. He first appears in Five Nights at Freddy's 2 where he resides on the Show Stage, between Toy Bonnie and Toy Chica.

Toy Bonnie

Toy Bonnie is a toy counterpart of Bonnie and the guitarist of the band. He first appeared in Five Nights at Freddy's 2 where he resides on the Show Stage to the right of Toy Freddy.

Toy Chica

Toy Chica is a toy counterpart of Chica and the back-up singer of the band. She first appeared in Five Nights at Freddy's 2 where she resides on the Show Stage to the left of Toy Freddy. Her companion is Toy Cupcake.

Mangle

Mangle is a heavily damaged animatronic with the likeness of Foxy. Repurposed as a "take apart and put back together attraction", they first appeared in Five Nights at Freddy's 2 where they reside in Kid's Cove.

Balloon Boy

Balloon Boy is a humanoid animatronic and a balloon vendor. He first appeared in Five Nights at Freddy's 2 where he resides in the Game Area.

JJ

JJ is a recolored counterpart of Balloon Boy often referred as Balloon Girl from the Freddy Files. She first appeared in Five Nights at Freddy's 2, where she occasionally appears under the office desk.

The Puppet

The Puppet is, hence its name, a puppet-like animatronic designed to give gifts to children. It first appears in Five Nights at Freddy's 2 where it resides in the Prize Corner.

Speculation
"I was the first! I have seen everything!"


This article or section contains a lot of speculation, which usually occurs from pre-release media, or just things that are still unknown, so please keep that in mind while reading. The page will continue to be updated with the most accurate information as more solid evidence is supplied.
Phone Guy mentions that before the withered animatronics were replaced, they were implemented with the same technology and functionality as the toys, however their retrofits were left unfinished making them have some similarities.

The toys and withereds almost have the same functionality, however there is a slight difference with facial recognition. Just like the toys, Withered Freddy, Withered Bonnie, and Withered Chica get fooled by the Freddy Fazbear Head very easily. Withered Foxy on the other hand has somewhat of a difference when it comes to facial recognition. While he can easily identify a person correctly and cannot be fooled by the mask. He is not used to bright lights, specifically the flashlight being one example of a bright light. This probably shows that Withered Foxy's facial recognition was probably left half-unfinished considering the fact that his recognition is not suitable enough to handle bright lights.

JJ is never clearly seen in the pizzeria, apart from under the table in the office. It's implied that she is just a hallucination, this is evidenced by how she is not seen at the Game Area like Balloon Boy showing that JJ never actually existed.
While it's currently unknown if Toy Freddy, Toy Bonnie, Toy Chica, Mangle, and Balloon Boy are possessed by the five kids that are seen in the SAVETHEM minigame, there is numerous pieces of evidence to support that they are. This is evidenced by their behavior when they actively hunt the night guard they have black eyes with small white pupils. This is something that is commonly seen in possessed animatronics. This also explains why they are aggressive towards adults but friendly with children as they may mistake them for their murderer.

Yet it's still unconfirmed if the five of them are possessed in the Completion Ending, only six tombs are shown, and not eleven. So it's possible that no one found the corpses or this could've been an intentional detail by Scott Cawthon because the other five victims aren't as significant as the original six or he might have forgotten about the other victims entirely.
Alternatively the five animatronics could've been controlled by the Puppet and Golden Freddy through the use of agony a concept from Fazbear Frights considering that those two contains the most hatred for William and that same hatred could've been so intense that it bled out to the toy animatronics.
Trivia
Chica's Magic Rainbow appeared in an art from The Freddy Files along with toy animatronics, but her connection with them is still unknown.

Dee Dee's appearance shares a nearly identical design to the toy animatronics. In spite of this, Dee Dee was based on Adventure JJ, so she is part of the toys from FNaF World.
The Puppet, Balloon Boy and Mangle are the only animatronics that may have not originally belonged to the toy lineup. The Puppet's origins may possibly even go back to the original Freddy Fazbear's Pizza, while the Mangle is given the "funtime" moniker. Balloon Boy's nightmare counterpart, Nightmare Balloon Boy, is confirmed to be canon to the gameplay of Five Nights at Freddy's 4.

They coincidentally are the only "toy" animatronics to receive several counterparts.

Balloon Boy is the only toy animatronic from the novel trilogy's alternate universe. Mangle also appears in the trilogy but is part of the Funtime lineup.

In the novel, it says that there were multiple Balloon Boys, all different colors. This could be hinting there are several characters such as JJ and Dee Dee.
References
↑ "They've spent a small fortune on these new animatronics, uh, facial recognition, advanced mobility, they even let them walk around during the day. Isn't that neat? But most importantly, they're all tied into some kind of criminal database, so they can detect a predator a mile away. Heck, we should be paying them to guard you." - Phone Guy's 1st phone call, Five Nights at Freddy's 2
↑ "But the characters have been acting very unusual, almost aggressive towards the staff. They interact with the kids just fine, but when they encounter an adult, they just... stare." - Phone Guy's 4th phone call, Five Nights at Freddy's 2