"You may not recognize me at first - but I assure you it's still me!"


Starting Minigame has not been given an official name; as such, this name is purely conjectural. However, it will be used until an official name is released.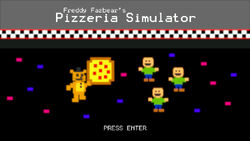 This minigame is playable at the beginning of Freddy Fazbear's Pizzeria Simulator. Upon starting, the game is disguised as an 8-bit tycoon game where the player takes control as Freddy Fazbear.
Gameplay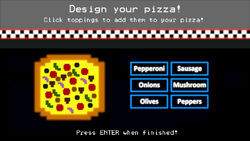 First, the player can pick any six different toppings on the pizza: Pepperoni, sausage, onions, mushroom, olives, and peppers. However, due to possible minigame limitations, neither of these toppings appear visible when starting the minigame.
Starting the minigame, the player must gather six pizzas and feed the children to earn score points:
On round one, the player can feed three children for 300 points.
On round two, the player can feed five children to total up 800 points.
On round three, a gray-scaled Freddy (possibly Shadow Freddy himself) appears and attempts to copy the player's movement, blocking from delivering any more pizzas to the kids. The player needs to feed pizzas to the gray-scaled Freddy to freeze him in place for only few seconds to get enough chance to feed the pizza to each five kids.
On round four, the minigame soon turns out as not what it seems: the game start glitching out with complete sprites turning into the gray-scaled Freddy sprites, a clutter of point texts, etc., until the screen goes black. Few moments later, it switched to the salvaging cutscene with Scrap Baby, revealing the game's true colors.
Community content is available under
CC-BY-SA
unless otherwise noted.