"Oh, birthday boy! Get ready for a surpriiiise!"


Remain mindful that this page may contains spoilers for related material. If you are new to anything, like if you have not played the game or read the book yet, please read at your own risk!
"You have a lot of work to do while patrons eat their pizza in the other room."


This article is unfinished with lack of content or images, considered as a stub. Please help the Five Nights at Freddy's Wiki by expanding it. Thank you!
"I always come back..."


This article refers a content related to the upcoming planned media for the franchise's future. Anything that is added to the article without a reliable source may be deleted without warning.
The staff bots are employee robots that are seen in the second trailer of Five Nights at Freddy's: Security Breach. One robot is delivering foods and two other robots are seen as attendants in the Freddy Fazbear's Mega Pizzaplex.
Physical Appearance
Their bodies look very segmented, with the torso being very small, and their "legs" being a tower with two large wheels, similar to Candy Cadet. The robots also seem to have the word "Staff" painted on their backs.
Role
The service bots are robots that perform jobs as employees for human beings, serving as staffs, waiters, securities, etc.

Types
Delivery Bots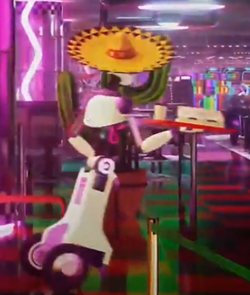 The staff bots that deliver the customers' orders. In the "tech-demo" trailer, one is seen delivering pizza, it is seen wearing a large sombrero, implying that it works in a Mexican restaurant.

Attendant Bots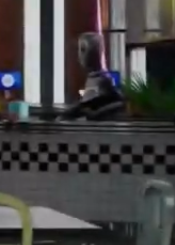 The staff bots that were employed to serve at the pizzeria. Two robots are seen as attendants in the mall, both of them have the same physical appearance.