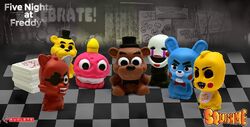 A list of squeezable Squishme toys based on the Five Nights at Freddy's characters, designed by the Japanese company Evolete. They are published in stores since 2017. The glow-in-the-dark variants are also available.

List
Wave 1
Over at least eight characters to collect, the line consists of Freddy Fazbear's plushie, Toy Bonnie, Toy Chica, Foxy, Golden Freddy, Mr. Cupcake, the Puppet, and a pizza box.
Wave 2
The line consists of Glamrock Freddy and Vanny.
Trivia
As shown in one of the earlier promotion images, Freddy Fazbear, Balloon Boy, and Withered Bonnie were originally planned to be in the Squishme line but never included at the end. Although entirely unclear, this was either left forgotten by the company or completely scrapped.