"You'll be starring as... The security guard! So not only will you be monitoring the people on the cameras as they pass through... but you'll also be a part of the show."
— Phone Dude explaining the protagonist's job, Five Nights at Freddy's 3
This unnamed character is the main protagonist and former security guard of Fazbear's Fright: The Horror Attraction in Five Nights at Freddy's 3 who must complete their shift from midnight to 6 AM across six nights.
Physical Appearance
Since the game is viewed in first person view for the entirety of the game, their physical appearance is never seen. They appear to have a masculine voice, judging by the panicked breathing sounds they make when the ventilation system fails or when a phantom animatronic jumpscares them.
Personality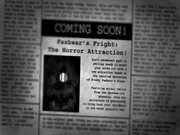 Based on the constant visions the guard sees of the phantom animatronics, it is possible that they may frequently be panicked and/or paranoid to the point of having hallucinations. Additionally, their deep, panicked breaths heard after being jumpscared by the phantoms indicate that they also show fear and anxiety during their shift, similar to Jeremy Fitzgerald and Fritz Smith from Five Nights at Freddy's 2.
Despite this, the guard appears to be relatively focused and courageous, as they are able to recover from the phantoms' jumpscares relatively quickly and are able to fend off Springtrap throughout the night.

Speculation
"I was the first! I have seen everything!"

This section archives a lot of theories and speculation, which usually occurs from pre-release media, or just things that are still unknown, so please keep that in mind while reading. The page will continue to be updated with the most accurate information as more solid evidence is supplied.
Trivia
The Fazbear's Fright guard's name is never revealed, as the attraction burns down before they can receive their paycheck.

This might be done to leave the date and minimum wage ambiguous, as it takes place 30 years after the closing of Freddy Fazbear's Pizza.
Additionally, this makes them the only security guard whose name is never revealed.
Sounds