Not what you were looking for? See Animatronic (disambiguation), Ballora (disambiguation), Freddy (disambiguation), or BB (disambiguation).
"But gears are whirring & there's a tick-tocking-- We're not sure what all that could be..."
— Summary, FNAF AR Twitter Account
The screampunk animatronics are steampunk-themed animatronic skin sets of Five Nights at Freddy's AR: Special Delivery and became available for the Screampunk Event on June 24, 2021.
Physical Appearance
The screampunk animatronics' design is themed around gears and machinery in steampunk style.
Animatronics
Clockwork Ballora
Clockwork Ballora is Ballora's screampunk skin released on June 24, 2021. She is Ballora's second skin, after Arctic Ballora.

Clockwork Minireena
Clockwork Minireena is Minireena's screampunk skin that comes with Clockwork Ballora upon release.
Aeronaut Toy Freddy
Aeronaut Toy Freddy is Toy Freddy's screampunk skin released on July 1, 2021. He is Toy Freddy's third skin, after VR Toy Freddy and Woodland Toy Freddy.

Jetpack Balloon Boy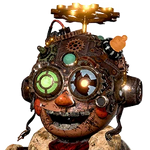 Jetpack Balloon Boy is Balloon Boy's screampunk skin released on July 8, 2021. He is Balloon Boy's third skin, after Swamp Balloon Boy and Frostbite Balloon Boy.

Trivia
"Screampunk" is a portmanteau title of "scream" and "steampunk".
As Minireenas were not reskinned with Arctic Ballora, the Screampunk Event marked Minireena's first time to earn a skin (Clockwork Minireena), making her the first and (currently) only non-delivery side animatronic to be introduced with a custom skin.
The term for Aeronaut Toy Freddy's name, "Aeronaut", refers to travelers who ride in hot-air balloons and other flying air crafts.
Jetpack Balloon Boy was accidentally leaked by Illumix on their YouTube channel hours before he was released on the same day, however, the leak was quickly taken down.
Bugs
As seen in the Workshop, Jetpack Balloon Boy is seen floating instead of being at normal ground level like all the other animatronics, it's unknown whether this feature is a bug or intentional.
Audio
Warning: The audio clips from the following list are loud!
| Audio | Description |
| --- | --- |
| | The sound Clockwork Ballora makes when attacking the player. |
| | The sound Aeronaut Toy Freddy makes when attacking the player. |
| | The sound Jetpack Balloon Boy makes when attacking the player. |