A list of discontinued scalers based on the Five Nights at Freddy's characters, designed by NECA. They were originally released on Fall 2016.
List
Standard Scalers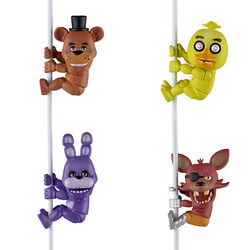 Your favorite characters from the hit horror game Five Nights at Freddy's are ready for action as Scalers collectible mini characters!
Attach these super-cute versions of Bonnie, Freddy, Chica, and Foxy to headphone cords, cables, straps and more for on-the-go fun. Scalers are only 2 inches high and feature characters from movies, video games, TV and comic books. Collect your favorites and take 'em anywhere![1]

Light-Up Scalers
From the hit horror game Five Nights at Freddy's, Foxy & Freddy are ready to shine a light as a new Light-Up Scalers! These 3.5" light-up versions of your favorite characters can be used two different ways. Attach to cords, cables, straps and more – or use the included flexible suction cup arm to hang them from smooth surfaces like windows, mirrors and more!
Use Light-Up Scalers to:
Add an exciting glow to any dark space
Illuminate backpacks and bags
Make a fun, on-the-go light
Enhance your holiday décor
Light-Up Scalers are made of lightweight plastic and use button cell batteries, included. Collect all your favorites from movies, TV, video games and comic books![2]
References