"I always come back..."


This article refers a content related to the upcoming planned media for the franchise's future. Anything that is added to the article without a reliable source may be deleted without warning.
Were you looking for similar characters of the series: Twisted Wolf from The Twisted Ones of the novel trilogy or the Pirate Wolf enemy from Freddy in Space 2?
Roxanne Wolf is a glamrock animatronic who will appear in the upcoming Five Nights at Freddy's: Security Breach.
Physical Appearance
As leaked from the old calendar cover art by Trends International, the concept art depicts Roxanne as an animatronic wolf with punk-styled motif. With yellow eyes and gray armor suit color, Roxanne has purple lipsticks, long shaggy white-gray hair with a green streak, a bushy tail, purple shins and forearms with thin tiger-like stripes, green fingernails, purple toenails, and a face paint with some series of black markings. She wears red shoulder guards printed with few black star shapes, an earring for her left ear, and goth-like bracelets around the wrists, neck, and waist. Her leaked design is conceived as just a concept and will change later on, however.[1]
Personality
Roxanne attended with the glamrock animatronic band as a keytar player.
Role
Roxanne Wolf appears to be the band's keyboardist during the day shows. Two logs of her and the other three glamrock animatronics are barely seen at the entrance.
Her role in the game and alignment to the player are currently unknown.
General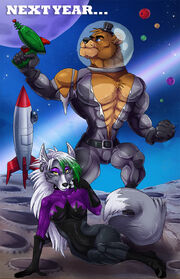 Roxanne Wolf's design originates from the character of the first Freddy in Space 2 teaser who makes no appearances in the game other than the score intermission screen. Both characters are physically based on wolves with gray fur, long grayish-white hair with green streaks, and apparels with a half of purple colors.
Roxanne Wolf's colors (white-gray, green, and purple) may also originate from the FNaF World enemy Tangle.
She is the second wolf animatronic in the franchise, with the other being Twisted Wolf from the novel trilogy.
References
Merchandise
Miscellaneous
Community content is available under
CC-BY-SA
unless otherwise noted.