"I always come back..."


This article refers a content related to the upcoming planned media for the franchise's future. Anything that is added to the article without a reliable source may be deleted without warning.
Were you looking for similar characters of the series: Twisted Wolf from The Twisted Ones of the novel trilogy or the Pirate Wolf enemy from Freddy in Space 2?
Roxanne Wolf is a glamrock animatronic who will appear in the upcoming Five Nights at Freddy's: Security Breach.
Physical Appearance
Roxanne is an animatronic wolf with a punk rock aesthetic. Her eyes are a bright yellow, while her fur is gray. She wears purple lipstick and toenails, green fingernails, and face paint with a series of black markings. Her clothes consist of a red crop top t-shirt printed with some black star shapes that exposes her stomach, an earring on her left ear, bracelets around the wrists and neck, a spiked belt, and a red pelvis.
Personality
Although her exact personality is not yet known, an official piece of artwork depicts her getting coal for Christmas, implying she's meant to be mischievous or malicious.
Role
Roxanne Wolf appears to be the band's keyboardist during the day shows. Her role in the game itself is currently unknown.
Trivia
The following information contains

spoilers

. To view them, click the [show] tag.
---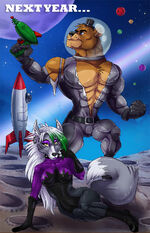 Roxanne Wolf's design matches a character seen on the first Freddy in Space 2 teaser, who makes no appearances in the game other than the score intermission screen. Both characters are physically based on wolves with gray fur, long grayish-white hair with green streaks, and apparels with a half of purple colors.
She is the second wolf animatronic in the franchise, with the other being Twisted Wolf from the novel trilogy.
She is the first glamrock animatronic to make an appearance in the whole Five Nights at Freddy's series.
Appearances
Community content is available under
CC-BY-SA
unless otherwise noted.