Robots, sometimes called bots, are artificially-engineered machinery created to automatically bring out a complex series of actions, appearing throughout the Five Nights at Freddy's franchise. They are invented and established by robotics industries, mainly Fazbear Entertainment, Inc., Afton Robotics, LLC, and Fazbear Funtime Service.
Animatronics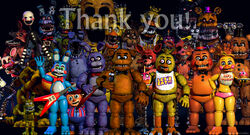 Main article: Animatronics
The animatronics are far by the most recurring robots of the entire media franchise. The animatronics are mostly created to look "life-like" in appearance to supposedly resemble actual living anthropomorphic creatures. They are designed with movable limbs, voice boxes, and covered by suit "armors" (made in fabric or plastic) to protect their endoskeletons. Commonly used for entertainment at public buildings (restaurants for example), they are also animatronics designed as electronic toys.
Not every animatronics has full bipedal models, however. In Five Nights at Freddy's: Sister Location for instance, three human animatronic heads can be seen in the Primary Control Module location, possibly designed for testing facial expressions.
AI Voices
The artificial intelligence voices are basically virtual assistants used to aid and perform tasks for the Fazbear Entertainment workers.
HandUnit, Female Computer Voice, and Tutorial Unit are the only known AI voices so far.

Articulated Bots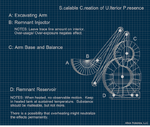 Articulated robots, sometimes referred as robot arms, are robotic machines simply designed as two-jointed structures for systems with ten or more interacting joints and materials.
So far, the Scooper is the only known articulated bot.

Androids
"Oh, birthday boy! Get ready for a surpriiiise!"


Remain mindful that this page may contains spoilers for related material. If you are new to anything, like if you have not played the game or read the book yet, please read at your own risk!

Androids are robots artificially invented to look and function in similar fashion to human beings.
Although only canon to the novel trilogy universe, Henry Emily, as a way to bring back his daughter to life after her following death, built four robots, each replicating a stage of life. Charlie, representing his late daughter as a teenager, is the most notable android created by her father. With Ella representing Charlie as a toddler, Baby was supposed to represent Charlie as an adult, and also two of the four robots constructed by Henry.
The robots are powered by a rag doll, which houses Henry's emotional energy. This doesn't apply to Baby however, since she was later possessed by Elizabeth Afton.

Electronic Toys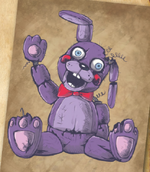 The electronic toys are a type of animatronics that appear smaller and designed as electro robotics toys.
Ella, Lonely Freddy, Plushtrap Chaser, Theodore, Stanley, Little Joe, Magician, and Gypsy are the known toy-based animatronics of the whole franchise. Ella from the novel trilogy universe, however, was created to represent Charlie as a toddler.

Service Bots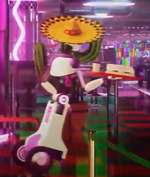 The service bots are robots that perform careers as employees for human beings, serving as staffs, waiters, securities, etc.
The staff-type bots and the unnamed wet floor bot are set to appear in Security Breach. Mr. Hugs is also supposedly a service bot, designed as a vacuum cleaner that by means of suction collects dust and small particles from floors and other surfaces.

Other Bots
Some unclassified robots include: