"I was the first! I have seen everything!"

This section archives a lot of theories and speculation, which usually occurs from pre-release media, or just things that are still unknown, so please keep that in mind while reading. The page will continue to be updated with the most accurate information as more solid evidence is supplied.
"Playing as a child whose role is yet unknown, you must safeguard yourself until 6am..."
— The Steam description describing the protagonist, Five Nights at Freddy's 4
The unnamed protagonist(s) is/are the main character(s) in Five Nights at Freddy's 4.
Protagonists
Main Gameplay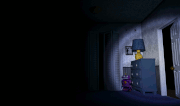 The main protagonist who remains in the bedroom, endangered by the nightmare animatronics. The protagonist must look after the nightmare animatronics from his surroundings to survive in all seven nights, from 12 to 6AM. He has fair hearing, especially when considering Nightmare Bonnie and Nightmare Chica's quiet breathing.

Trivia