A list of collectible Pint-Sized Heroes based on the Five Nights at Freddy's characters, designed by Funko.
List
Series 1
The Series 1 wave contains 21 figurines and was published in stores on January 16, 2017.[1]
Series 1.5
Not included in the initial release of Series 1 wave were three more collectibles. Two were made available in Gamestop's Black Friday 2016 Mystery Box on November 25, 2016, while the other one was available in Funko's "POP!&Pint Pack", a POP! Tee with Springtrap's Funko POP! design and Pint Size Hero bundle.
Series 2 - Sister Location
The Series 2 wave contains 12 figurines and was later released as announced on August 22, 2017.[2]
Advent Calendar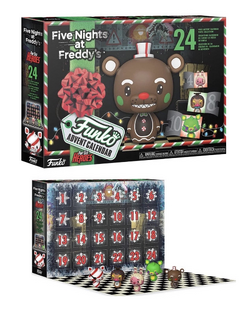 The Advent Calendar contains 24 figurines and includes holiday and blacklight variations of the animatronics and was officially released on October 20, 2021.[3] Both holiday and blacklight variations glow in blacklight.
Day 1


Black Blacklight Freddy

Day 2
Day 3


Yellow Blacklight Foxy or Mangle

Day 4


Blue Blacklight Puppet

Day 5


Green Blacklight Bonnie

Day 6


Candy Cane Foxy

Day 7


Blue Blacklight Balloon Boy

Day 8


Red Velvet Cake Bonnie

Day 9


Green Blacklight Freddy

Day 10


Black Blacklight Chica

Day 11


Purple Blacklight Puppet

Day 12


Blue Blacklight Freddy

Day 13


Purple Blacklight Chica

Day 14
Day 15


Blue Blacklight Foxy or Mangle

Day 16


Green Blacklight Foxy

Day 17


Christmas Tree Bonnie

Day 18


Pink Blacklight Freddy

Day 19


Black Blacklight Foxy

Day 20


Yellow Balloon Boy

Day 21


Purple Blacklight Foxy

Day 22


Present Chica

Day 23


Black Blacklight Bonnie

Day 24


Gingerbread Freddy
Video
Trivia
Two of Foxy's blacklight Pint Size Hero uses Mangle's head sculpt, as seen with the absence of hair tuff and raised cheeks although all blacklight Foxy figurines use the latter's body as a base, as seen with the absence of Foxy's hook, shorts, and the presence of a bow tie. Appearance-wise the yellow and blue blacklight figurines resemble Mangle more than Foxy except for the presence of an eyepatch, due to the design inconsistencies, it is unknown if the two blacklight Foxy Pint Size Heroes are meant to be Foxy or Mangle.
References