Not what you were looking for? See Puppet (disambiguation).
The Phantom Puppet is an antagonist in Five Nights at Freddy's 3 and one of the six phantom animatronics in the game. It is a hallucination of a burnt and damaged Puppet.
Physical Appearance
The Phantom Puppet has, essentially, the same model of its Five Nights at Freddy's 2 incarnation, though its body is charred and its eyes have small white pupils, much like the other phantoms. Its charred and burnt appearance possibly foreshadows the torching of the attraction. Its three buttons are also very dark in color, and the top button is almost half broken while the bottom one is cracked, as visibly noticable when its Extra menu render is brightened.
Appearances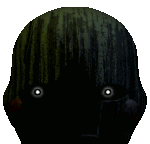 The Phantom Puppet appears very briefly in CAM 08 and then appears in the Office depending on whether or not the player changes the Monitor's view before lowering it.
Rarely, when the player looks at CAM 08 and only CAM 08, the image of a normal, non-burnt Puppet in the hallway will show. Once this happens, the Monitor will lower almost immediately and a close-up of this same Puppet's face, only burnt and grey-black, will move right to left in the Office, its eyes focusing on the player. While this is happening, the Phantom Puppet will make a weird, "computer-like" noise while blocking the player's view.
Once in the room, the Phantom Puppet cannot be warded off and must leave on its own, which will take approximately 17 seconds. During this period, it allows time for Springtrap to move closer to the player while also leaving the player vulnerable to the other phantoms, especially Phantom Freddy and Phantom Foxy, who can both attack almost immediately, even while the Phantom Puppet is still in the Office.
Gallery
The following section is rather large and has been truncated for ease of page viewing.
To view it, click the [show] tag.
---
Gameplay
Miscellaneous
Audio
Warning: The audio clips from the following list are loud!
| Audio | Description |
| --- | --- |
| | The sound that Phantom Puppet makes while blocking the player's view. |