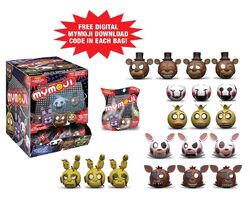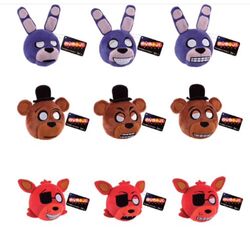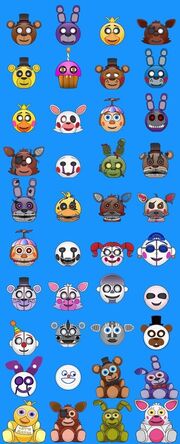 A list of Mymoji collectibles that were released since 2016 and designed by Funko. Each blind bag comes with a free digital download code for the Quidd app where almost every exclusive Five Nights at Freddy's character MyMoji sets (virtual stickers, emojis, etc.) can be purchased.
Freddy Fazbear, Bonnie, Chica, Foxy, the Puppet, Springtrap, Toy Freddy, and Mangle are available as MyMoji toys and appear in many different emotions based on emoji expressions: confused, angry, glare, smiling, happy, eyes open/closed, growling, laughing, scared, and winking.
There are also plush versions to purchase, although only Freddy, Bonnie, and Foxy are available.
From the Quidd app, there are multiple exclusive MyMoji sets to collect: Golden Freddy, Chica's Cupcake, Toy Bonnie, Toy Chica, Balloon Boy, Withered Bonnie, Withered Foxy, Nightmare Freddy, Nightmare Bonnie, Nightmare Chica, Nightmare Foxy, Nightmare Mangle, Nightmare Balloon Boy, Nightmarionne, Circus Baby, Ballora, Funtime Freddy, Funtime Foxy, Bidybab, Minireena, Ennard, Yenndo, Endo-02, three separated Paperpals, and six separated plushies (based on Freddy, Bonnie, Chica, Foxy, Springtrap, and Mangle).
Trivia
Strangely enough, there is a "Nightmare Springtrap" virtual sticker available to buy. Springtrap lacks his official nightmare counterpart in the overall Five Nights at Freddy's universe, however.
Video