The following is a list of schools, restaurants, and other businesses and locations that have no affiliation with Fazbear Entertainment that appear in the Fazbear Frights series.
Multiple Stories
Snack Space

The Snack Space itself does not appear directly in the novels. However, it is mentioned by name in some stories. It seems to be a convenience store of sorts and is known to sell cold cuts of meat as well as salads of the normal and potato varieties. It is possible that all references to the Snack Space refer to the same establishment. If this is the case, it would imply that all involved stories take place within close proximity.
The first time it is mentioned is in Into the Pit. After losing his job at the local mill, Oswald's father works there part time.
In Room for One More, Amber's new boyfriend is said to be the manager of the Snack Space.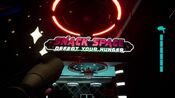 The Snack Space ended up making a canonical appearance in the games universe, and is seen as a food counter in Five Nights at Freddy's: Security Breach at Fazer Blast.
Steel Mill
It was a local mill that was the main source of income for an entire town and what kept the town thriving, but eventually it shut down and closed leaving the town facing a great depression with many stores shutting down, people moving away and no investors looking to help the land.
It was first mentioned in Into the Pit when Oswald's father used to work there until it shut.
It was mentioned again in He Told Me Everything and it was said to shut down before Chris was born.
All-Mart
All-Mart appears directly in the novels as a general convenience store with food, clothing, and toys.
It is first mentioned in Dance with Me, where Kasey attempts to buy clothing with a stolen credit card.
In The Cliffs, Robert purchases Tag-Along Freddy at the store.
Westbrook Elementary & Westbrook Middle School
Oswald attends both Westbrook Elementary and Westbrook Middle School. He leaves the elementary school at the beginning of the summer and goes to the middle school at the end of the summer. It is at the middle school that he meets Gabrielle, who gives him the motivation to defeat Spring Bonnie.
Brown Cow
The Brown Cow is a small ice cream and milkshake shop. The Brown Cow is located across the street from Sarah's school.
Pizza Palazzo
The Pizza Palazzo is a pizza restaurant. The Pizza Palazzo is in a mall, next to a movie theater. Mason invites Sarah to both restaurants for a date.
Diller's
Diller's is the most expensive department store in a mall. The Beautifuls mess around in the store, leaving the saleslady to clean up the mess. It sells expensive clothes and makeup.
You and Me Coffee and Tea
You and Me Coffee and Tea is a café. When Millie and Dylan are at the library together, Dylan suggests going to the café nearby. Millie considers going.
Royal Oaks Nursing Home
Royal Oaks Nursing Home is a nursing home for the elderly. Oscar's mom works there, and she sometimes needs Oscar to help her there.
The Emporium
The Emporium is an old toy store located in a mall. It is the last place that has a Plushtrap Chaser for sale; all other stores are out of stock. The store is described as gross and never really cleaned. It is always on the brink of bankruptcy, but they always receive mysterious donations at the last minute to stay funded. When a long line of customers find out that the store has ran out of Plushtraps, they all riot and tear the store apart. Oscar, Raj, and Isaac steal the strange Plushtrap Chaser with human eyes and teeth in the midst of the chaos. This event is something the store can't bounce back from, and it shuts down.
Toy Box, Marbles, & Rockets
The Toy Box, Marbles, and Rockets are toy stores. Raj and Isaac go to them first to see if they have a Plushtrap Chaser, but they do not.
Hal's Halloween Hallway
Hal's Halloween Hallway replaces the Emporium after it was destroyed. It's a store entirely dedicated to Halloween; with decorations, costumes, candy, and even other food products for homemade Halloween goods. Oscar, Raj, and Isaac are shocked to see Hal's replace the Emporium and are unable to return the stolen Plushtrap Chaser. Raj and Isaac purchase costumes and plan on dressing up as killer fairies. Raj also finds a Plushtrap Chaser costume. Oscar returns to the store at the end of the story to make a jack-o-lantern filled with chocolate for his mom.
Bed4U Motel
Bed4U Motel is an old motel. Delilah attempts to stop Ella by running away from her town. It is old, but neat and clean.
City Diner
City Diner is a restaurant. Stanley goes there every morning to eat breakfast.
Luigi's Spaghetti House & Wong's Palace
Luigi's Spaghetti House and Wong's Palace are restaurants. Stanley would take his girlfriend to those restaurants on his days off.
Greenblatt's Deli & Dutch Girl Dry Cleaner's
Greenblatt's Deli and Dutch Girl Dry Cleaner's are a deli and dry cleaners, respectively. Stanley realizes he is dreaming when he can't find the two locations in the neighborhood. Notably, a sign normally saying "Forrest Avenue" is replaced with "Fazbear Avenue", despite not recognizing the name.
W. H. Jameson Middle School & North Hillside High School
W. H. Jameson Middle School and North Hillside High School are a middle school and high school, respectively. Pete goes to the high school, and Chuck goes to the middle school. The high school organizes a homecoming party with a theme of pirates, which coincidentally matches Pete's curse by Foxy. After getting his hand stuck in a finger trap and a dart nearly hitting his eye, he runs away from the school. Chuck receives a call from Pete to go to Freddy Fazbear's Pizza, and he ditches school.
Barney's Butcher Shop
Barney's Butcher Shop is where Pete goes to pick up pork chops for his mom. When ordering the food, a cleaver falls from the shelf and almost cuts Pete's wrist. The shelving is normally stable to prevent the weapons from falling off, perplexing the butcher on how the cleaver fell.
Burger Barn and Famous Fried Chicken
The Burger Barn and Famous Fried Chicken are fast-food restaurants. The Burger Barn is located half a block from Circus Baby's Pizza World. Kasey spends some extra money she has for a biscuit and coffee there, knowing that she could freely use the restroom afterwards. Famous Fried Chicken is where Kasey stole for the first time. She was only making minimum wage, so she learned that it was more efficient to steal than work.
Royal Café
The Royal Café is an old diner located in Memphis. Kasey tries to work a honest job there, but she succumbs to her desires and steals tips. When she is almost caught, she quits working there.
Gas 'n Go
Gas 'n Go is a convenience store. Kasey, Jack, and AJ manage to use a stolen credit card to pay for food at the store.
Best Choice Inn & Music City Motel
The Best Choice Inn and Music City Motel are motels. Kasey moves to Memphis to avoid Ballora, and sleeps in the Best Choice Inn. After almost getting caught stealing tips, she moves to Nashville, and sleeps in Music City Motel. Ballora scrapes her fingers on the motel's windows. Both motels are described as old and dirty.
Unique Fashions
Unique Fashions is a clothing store. It is located in Nashville. Kasey shops there for clothing for a job interview. She is able to afford shoes, but not the dress. She promises herself that the last thing she will steal in her life would be the dress, and she would live an honest life. However, she is caught, but a nice woman pays for her dress. The store is neat, with bright lights and mannequins.
Camp Etenia
Camp Etenia is a summer camp, with the entire story taking place there. The camp is for kids and their parents to have fun and bond in the great outdoors, offering approximately 112 different activities such as fishing tournaments, swimming, ziplining, talent shows, karaoke nights, scavenger hunts, tug-o-war, bungee jumping, archery, horseback riding, canoeing, hula-hooping, hiking, biking, and other sorts of sports like gymnastics, volleyball, and ping-pong. The camp's mascot, Ralpho is the main antagonist of the story. A person in the Ralpho costume scares campers early in the morning as a prank. When Bob, the story's protagonist, agrees to the "Bunny Call", the rabbit attempts to break into his cabin.
Neapolitan
The Neapolitan is an Italian restaurant. The restaurant has a romantic atmosphere, with dim lights and violin music. It is Matt and Hannah's favorite Italian restaurant. When they were married, they went there every Friday night to discuss starting a family. Later, it is the location of Matt and Jason's double date with Eva and Meghan.
Ye Olde Steakhouse
Ye Olde Steakhouse is a steakhouse. It is where Matt's date with Madison takes place.
Gus's
Gus's is a bar owned by Gus. Matt goes there to get a drink.
Good Deal
Good Deal is an electronics store. Gene Jr. was fired from his job there, and had to move back with his parents as a result.
Heracles Hospital
Heracles Hospital is a hospital, with most of the story taking place there. The hospital was built centuries ago through manual labor, and was named after the Greek mythology character Heracles, son of Zeus and Alcmene. It was eventually sold to a billionaire who had the hospital modernized and renovated from the interior but kept the exterior the same. The Room 1280 Patient was housed in the hospital for years, with no record of his name or his family. The ghost of a child wearing an alligator mask roams the hospital's halls, being spotted many times by nurses and patients alike, keeping the man in Room 1280 alive to ensure his eternal suffering.
Glendale Hospital
Glendale Hospital is a hospital. Arthur and Mia prefer it over Heracles Hospital.
Wilbers' Eats
Wilbers' Eats is a diner owned by Christine's father. Nole heads there to find the owner, so that she can find Christine and apologize for bullying her. The Blackbird seemingly stops by the eatery while stalking Nole, and it's unclear whether or not the other people inside the restaurant see it either.
The Cliffs
In the town Robert lives in, there are several large Cliffs nearby, the highest being nicknamed "Jumper's Cliff". Many people unfortunately take their lives jumping off the Cliffs towards the ground below. Rumors are spread that the undead spirits of the people who have fallen off of them still haunt the area.
Tiny Tot Academy
Tiny Toy Academy is the town's local daycare, where many children are dropped off and taken care of by the teachers and staff. Robert's son, Tyler, attends Tiny Tot Academy while Robert is at work.
West Valley High School
West Valley High School is where most of the story takes place. Chris, and his two childhood friends, Josh and Kyle, transfer to this school for their freshman year.
Dairy Bar
The Dairy Bar isn't a real bar, and is more of an ice cream parlor. Chris, Josh, and Kyle consistently hang out there and order custom-made chocolate and vanilla swirls on a cone. Chris finds the parlor childish.
Cool Beans Coffee
Chris meets new friends at the high school; San, Malcolm, and Brooke. They're all a part of the science club and have a study group at the coffee shop on Wednesdays. Chris finds the shop sophisticated.
Merrimount High School
Merrimount is the high school that Angel goes to. She is in her senior year and is about to graduate from the school in one month.
Graves Academy
Graves Academy is a private school for the higher-ups. Dominic is about to graduate from the school in about a month.
Rocket House
Rocket House is some form of restaurant. Bands can perform gigs there. Dominic asks Angel out, wanting to hang out with her there.
The Horizon
The Horizon is the restaurant Sergio invites his girlfriend Violet to celebrate winning the lottery. He says it is the best restaurant in town.
Charlie's
Charlie's is an old-fashioned soda fountain and ice cream parlor. Hudson, Barry, and Duane has visited the restaurant as children, and Duane brings them there to remember their childhood. It has a black-and-white checkerboard floor.
The Pizza Playground
The Pizza Playground is a pizzeria owned by Jack. It originally belonged to a big chain, which was popular in other cities, and was bought by Jack three years before the story begins. Similar to Freddy Fazbear's Pizza, it has delicious pizza, arcade games and performances by singing animatronics. The performing animatronics mentioned throughout the story are Pigpatch, Baron von Bear, and a third unspecified bird animatronic. Jack is angry since customers haven't been showing up and business hasn't been going well. One of his employees, Porter, is building a machine that will solve this problem by creating new animatronics for the pizzeria, only made from pieces of wood. The machine failed, but in the end, the restaurant thrived. Jack decreased the prices and more families came in, allowing the pizzeria to remain prosperous.
Golden Heifer
Golden Heifer is a fast food joint that serves burgers and fries. Porter, Sage, Angie, and Edwin all go there for dinner. They all chip in to buy grilled cheese, fries and BLTs. They all have fun and have joint excitement for their futures, away from Jack. Edwin considers working at the Golden Heifer as their chef.
Jack goes there after a falling out with his wife, Becky. Now off his diet, he orders food from the menu. However, he becomes angry and yells at the drive-thru cashier when his burger has no bacon. After his near-death experience, he returns to apologize to the cashier and make amends.
Dunky Doughman
Dunky Doughman was an all-night donut shop that Jack and Becky went to frequently when they were still dating. Jack returns there to by donuts as a part of his apology to her.
Tastee Kone
Tastee Kone is a bar where Payton and Marley use to hang out together. It has picnic tables outside the main building where people can sit to consume what they ordered.
Burgerdom
Burgerdom is a fast food restaurant Jessica and Brittany visit with their boyfriends.
Leonardo's Pizza
Leonardo's Pizza is a pizza place that Jeremiah and his two friends, Matt and Ty, hang out together and talk about their lives. They've been going there once a week consistently, to the point where waitresses who work there know their usual orders. Jeremiah talks about wanting to be satisfied with life and confess his feelings to Hope.
D'Agostino's Nursery and Garden Center
D'Agostino's Nursery and Garden Center is a outdoors market where customers can purchase home-grown plants. The business is ran by the protagonist Joel's father, Steven and is under the D'Agostino family name. Joel himself hates the constant labor of the job, despite it giving him a reasonable pay. Steven ends up firing Joel for being snarky with him.
Sally's
Sally's is a café where Steven goes to pick up three dozen donuts every day before work.
BJ's
BJ's is a local joint where Joel's friend Wes works. Wes claims the owner of the store is extremely bossy.
Lovely Ladies
Lovely Ladies is a clothing store for women. While driving through town, Steven notices one of the dresses shown on the window for sale.
Herb's Hardware Store
Herb's Hardware Store is a store where Joel and his dad buy materials to build a report center for information about Caleb. They also sell "Kids at Play" cutouts.
Bernadette's Bakery
Bernadette's Bakery is a local bakery in Aimee's area. Aimee first spots Emmett Tucker, the man she believes killed her friend Mary Jo at the bakery.
Flo's Fabulous Eatery
Flo's Fabulous Eatery was a restaurant that replaced the Freddy Fazbear's Pizza location after it closed down. It's stated to be the home of a "leaning tower of pancakes". It is themed around holstein cows.
"I assure you, I am very real."

The contents of this article or section are from a non-canon source, and thus, have no bearing on the official lore of the series.
Crawberry Cradle Roadside Inn
Crawberry Cradle Roadside Inn is a small residential building housed in the town of Forkstop. It's named after Floyd Crawberry, an infamous outlaw that lived during the 1800's. Dirk stays there for several days on his search for Felix the Shark throughout the town.
Crawberry Flows Water Park
Crawberry Flows Water Park is a water park that is also named after Floyd Crawberry. It replaced the Freddy Fazbear's Pizza location with Felix after it closed down. According to a map, the park once had three twisting water slides, one straight water slide, a wave pool designed to look like a beach and two river rapids nicknamed Floyd's Pond and Floyd's Swimming Hole. There were also several restaurants like a grill and cafe for people to eat. Felix and his water tank still remain under the park. Dirk ends up getting trapped in the tank with Felix and has to swim away from him.
Mattson State Hospital
Mattson State Hospital is a hospital. Louisa, the daughter of Aaron Sanders, resides in the hospital due to the emotional scars from her bad childhood. Dirk visits her in the hospital to seek answers about her father and Felix the Shark. Louisa gives him her butterfly-shaped pendant.
"I assure you, I am very real."

The contents of this article or section are from a non-canon source, and thus, have no bearing on the official lore of the series.
Donovan Prep is an all-girls preparatory school that Mandy goes to. There, she is constantly antagonized by her bully Melissa. After her investigation of Stevie Robbins' death, she does stand up to Melissa when she returns to the school in front of a bunch of other students.
Old Cinemas
Old Cinemas is an old building in Peace Valley. It used to be Sideshow's Snack Shack.
Sideshow's Snack Shack
Sideshow's Snack Shack was an old family diner, it shut down after a young boy named Stevie Robins went missing there.
Harold's Hardware Store
Briefly mentioned as being a shop in Peace Valley, Utah.
Sally's Groceries
Briefly mentioned as being a shop in Peace Valley, Utah.
"I assure you, I am very real."

The contents of this article or section are from a non-canon source, and thus, have no bearing on the official lore of the series.
Shop-A-Lot
Shop-A-Lot is the store that Sylvia and Timmy go to during the story.
Evergreen Laboratories
Evergreen Laboratories is a science research facility. Phineas Taggart, a man who liked studying the power of human emotion used to work there before he decided to retire and work on his own personal research on the paranormal.
Papa Bear's Pancake House
Papa Bear's Pancake House is a restaurant that serves pancakes. This restaurant replaced a Freddy Fazbear's Pizza location that closed down, and would eventually be replaced by Jeff's Pizza in the future. Everette Larson sees this restaurant in a memory/vision.