This is a list of minor animatronics from the Five Nights at Freddy's trilogy novels, The Silver Eyes, The Twisted Ones and The Fourth Closet. They have a very small role in the series and all their names are undisclosed.
Five Nights at Freddy's: The Silver Eyes
Blue Springlock Suit
The blue Springlock suit is a suit that William Afton traps a kidnapped Carlton Burke inside of. It is a blue animatronic, the species of whom can't be identified, but the graphic novel reveals this animatronic to be slightly based on a beaver with a buck teeth, shorter ears, rosy turquoise cheeks, and darker blue eyebrows. On it is a large, sky-blue, barrel-esque torso equipped two small buttons on a cyan heart-shaped underbelly. Unlike most springlock suits, it only has four fingers instead of the usual five.
Assorted Animatronics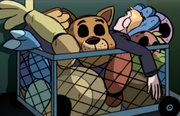 As seen in the TSE: Graphic Novel, Officer Dunn's body was found in the box filled with body parts of more unidentified animatronics, including the empty head of an animatronic cat with few shades of brown.

Five Nights at Freddy's: The Twisted Ones
Charlie's Project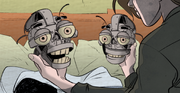 Charlie's project involve two mechanical heads, constructed by Charlotte Emily to teach spoken language to computers[1]. Some of Theodore's components are used for her project. Charlie communicates with her project using modified earpieces. They communicate with one another in strange, poetic dialogue.
Abandoned Diner Animatronics
Multiple animatronics appear in the pizzeria Twisted Freddy took Charlie to. These include a brown jackrabbit, an amphibian with a crate balanced on its head, a black dog with red eyes, chimpanzee animatronics on top of arcades, an ape animatronic's arm and a contorted bird. These animatronics are inactive and don't do anything.
Five Nights at Freddy's: The Fourth Closet
Circus Baby's Pizza World Animatronics
There are a few animatronics mentioned to be part of Circus Baby's Pizza World. One is an animatronic clown with a mallet and a segmented face. The other is a jack-in-the-box with a painted face and face plates.
Trivia
The Silver Eyes
"PLEASE STAND BY"

This section is empty with missing content. You can help out by adding to it.
The Twisted Ones
Fetch resembles the black dog, though this is likely a coincidence.
The Amphibian could be potentially related to Happy Frog, but this is unlikely due to the misty gray coloring.
The two mechanical heads in Charlie's project are similar to the Control Module Heads.
The Fourth Closet
References
↑ Five Nights at Freddy's: The Twisted Ones