Not what you were looking for? See Animatronic (disambiguation), Freddy (disambiguation), or Chica (disambiguation).
"Here in the States, summer parties & July 4th are just around the corner."
— Summary, FNAF AR Twitter Account
The July 4th Animatronics are July 4th-themed animatronics that were introduced in Five Nights at Freddy's AR: Special Delivery for the July 4th event that started on June 25, 2020.
Physical Appearance
They are counterparts that bear some identical resemblance to the original animatronics, albeit designed with special traits based on 4th of July.
Animatronics
Firework Freddy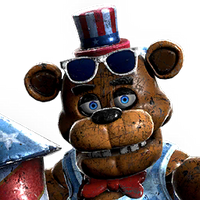 Firework Freddy is a July 4th-themed variant of Freddy Fazbear and added on June 25, 2020 as the July 4th event's first skin. He is Freddy's second released skin, after Shamrock Freddy.
Firework Freddy's suit keeps the brown skin and blue eyes of his original counterpart, alongside his bow-tie which has been recolored red instead of black. He has white shades on top of his head alongside his top hat being repainted with the colors of the American flag. Firework Freddy is clothed in a tank-top that's mostly blue with bits of white due to age. Its once again decorated with the American flag's white stars and red/white stripes. He carries a large red and white striped firework with a blue tip, and the string has already been lit.

Liberty Chica
Liberty Chica is Chica's July 4th variant and added on July 2, 2020 as the July 4th event's second and last skin. She is Chica's first skin.
Liberty Chica's suit is recolored to match the Statue of Liberty's signature shade of cyan. The irises of her eyes are also green instead of purple. She has the original Statue of Liberty's crown with seven spikes on top of her head, alongside holding the tablet featuring Roman Numerals of July 4, 1776; the day the Declaration of Independence was created. Chica's cupcake is the candle the Statue of Liberty holds, and is also set on fire.

Trivia
Firework Freddy and Liberty Chica have different charge and defeat animations compared to their original counterparts.
Audio
Warning: The audio clips from the following list are loud!