This page lists descriptions of Minor Characters that appear in Into the Pit.
Oswald's Mother
Oswald's Mother works as a nurse in a local hospital. As a result she doesn't get to spend much time with Oswald which forces his father to always take care of him and make him his food. When she is available she usually cooks them dinner and has family nights with them.
Oswald's Father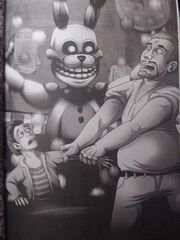 Oswald's father lost his job when the mill closed and is now working at the Snack Space. He has to take care of Oswald and make him food since his mother is usually unavailable. He and his son often butt heads over what "good" entertainment is, with Oswald finding his dad's likes dated and his father finding current media to be inferior with its use of CGI.
During the story, he gives Oswald a few bucks everyday for him to buy a slice of pizza and a soda at Jeff's Pizza while he was at work. One day, Oswald and his father fight after Oswald complained to him about his boring summer has been and wanted to scare him by hiding in the ball pit. Given Oswald's trip to the past, this doesn't happen as One day, on the way to the library, Oswald asks his dad about Freddy Fazbear's Pizza, the place Jeff's Pizza was before being shut down. His dad seems very much aware of the troubled past of the place and doesn't want to talk about it. Oswald's next trip leads him to the scene of the child murders which ends in a costumed yellow rabbit chasing into the ball pit. When the two emerge, Oswald finds his dad and Jeff there and the rabbit attacks his dad and pulls him into the ball pit. When the rabbit emerges, everyone else in the world other than Oswald sees the rabbit as his dad. When Oswald later escapes the rabbit after several days, he makes it back to Jeff's to find his father at the bottom of the ball pit. After a fight with the rabbit, he successfully rescues his dad and the two return to a fairly normal life, though with a better appreciation for each other.
Jinx
Jinx is Oswald's cat, described as female, black, and spoiled. She is the only other character in Oswald's life that can see the rabbit for who it really is when it replaces Oswald's dad.
Ben
Ben is Oswald's best friend who moved away after the mill closed and his father found new work. He is described as always being able to make Oswald laugh. He texts Oswald during the story about his vacation at Myrtle Beach and shares his sentiment that Jeff's Pizza is weird.
Dylan Cooper
Dylan is the typical school bully, making fun of people for whatever he can. He particularly likes to pick on Oswald, calling him Oswald the Ocelot after a children's TV show character.
Mrs. Meecham
Oswald's fifth-grade teacher who is shown to be over the current school year on the last day by simply putting on a movie for the kids and letting them play with their electronics.
Jeff
Jeff is the owner and sole employee of Jeff's Pizza. He is described as a "zombie pizza chef" with dark hair sticking up in all directions; heavy-lidded, bloodshot eyes with alarming bags under then; show thinking; slow speech; and slow movement. It's said he looks about a hundred years old when he is probably just thirty.
Appearances aside, he is kind, if not pragmatic. When Oswald can only afford one slice of pizza, he offers him extra slices that he was going to have to throw out anyway as well as a free refill on his drink. He does, however, get mad at Oswald when he is discovered in the closed-off ball pit.
Chip
Oswald bumped into two kids who looked like the same age as him, named Chip and Mike. After they introduced themselves to Oswald, Mike told him that he's very good at Skee-Ball. He easily defeated Chip and Oswald three times. After playing a few games with them, Oswald started to worry about how to go back to his world. The next day, Oswald goes into the pit again. Chip and Mike invited him to eat some pizza with him, he accepts.
Over the next few weeks, Oswald goes into the pit to play with Chip and Mike. Sometimes they didn't even play games - they just sat at the table, drank soda and talked.
Mike
Mike is described as a tall kid. When Oswald first meets him, he is wearing huge eyeglasses and a red and blue striped shirt.
When Oswald time-traveled to 1985, he met two kids, Mike and Chip. Mike says that he is very good at Skee-Ball, and they play a few games together. The next day, they invite Oswald to eat some pizza, and for the next few weeks, they become good friends.
Gabrielle
Gabrielle is described as a girl with curly black hair and big brown eyes. Oswald meets her one both their first day at Westbrook Middle School, though it is only her third day in town. She is seen carrying a book about Greek heroes in mythology. This sparks a discussion with Oswald about being brave when facing monsters, something he needed to hear to give him the motivation to stop the rabbit.