Not what you were looking for? See Winter Animatronics, Animatronic (disambiguation), Freddy (disambiguation), Bonnie (disambiguation), or Chica (disambiguation).

This article is about a list of holiday animatronic skins from Special Delivery. For the list of Halloween-based animatronics, see Halloween nightmare animatronics.

Easter Bonnie is listed here. For a Freddy in Space 2 boss with a same name, see Easter Bonnie.
The holiday animatronics are seasonal animatronic skins that were introduced in Five Nights at Freddy's AR: Special Delivery via ongoing daily update patches, starting on March 12, 2020 with the release of Shamrock Freddy.
Currently, there is one full standalone animatronic and many other animatronic skins.
Physical Appearance
They are counterparts that bear some identical resemblance to the original animatronics, albeit designed with special traits based on holidays, chronologically including St. Patrick's Day, Easter, 4th of July, and even Day of the Dead.
Other holidays (whom the animatronic skins are based) that have not yet been confirmed include: Valentines' Day, Halloween, Thanksgiving, and Christmas.
Skin Animatronics
Shamrock Freddy
Shamrock Freddy is a St. Patrick's Day variant of Freddy, and appeared in the 2020 St. Patrick's Day event on March 12, 2020, then later on October 1, 2020 for the second round of the mashup event. He is Freddy's first custom skin and officially the very first skin ever released.
He appears to be similar in appearance to Freddy Fazbear, almost sharing the same model with him. He is colored clove green in complexion, and has lime green irises, white sclera, a dark green leprechaun-themed hat, a golden beaded necklace and a dark green bowtie. His overall appearance represents the materials and nature on celebrating the St. Patrick's Day.

Chocolate Bonnie
Chocolate Bonnie is an Easter variant of Bonnie and added on April 10, 2020 as the Easter event's first skin. He is Bonnie's first featured animatronic skin.
His overall look is similar to the original Bonnie, but his skin color has been changed to brown, as he is supposedly made out of chocolate. Part of his left ear, body, and left leg are missing, as if they are bitten away. Chocolate Bonnie's eye color has changed to red as well. Some cracks can be seen on his body, especially where he is "bitten". His bowtie is now light blue, and his buttons are colorful and are made to look like candies.
Chocolate Bonnie returned on June 23, 2020 for a little bit to celebrate his own exclusive merchandise line. He later re-appeared once again on September 24, 2020 for a mini event.
Easter Bonnie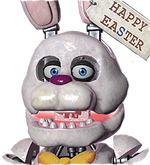 Easter Bonnie is an Easter variant of Bonnie who is added on April 16, 2020 as the Easter event's second and last skin. He is also the second custom skin for Bonnie.
His overall look is similar to the original Bonnie, but his skin color has changed to white to resemble the color of a real life bunny. His stomach is designed to look like an Easter egg. There is a tag on his left ear which says "Happy Easter", with the "S" being a different color than the rest of the letters. His eyes are now blue, his nose is now purple, and his bow-tie is bright yellow. His name and appearance is based on the Easter Bunny.

Firework Freddy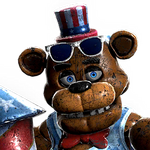 Firework Freddy is a July 4th-themed variant of Freddy Fazbear and added on June 25, 2020 as the July 4th event's first skin. He is Freddy's second released skin, after Shamrock Freddy.
While Firework Freddy has the same look as Freddy Fazbear, he now wears a torn outfit. Firework Freddy wears a light blue-colored tank with star patterns on it and a grey shorts, as well as a red bowtie and a top hat with red and white stripes and stars. The most notable design difference regarding Firework Freddy's appearance is that he holds a large firecracker that is ignited, and he also wears white sunglasses.

Liberty Chica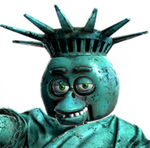 Liberty Chica is Chica's July 4th variant and added on July 2, 2020 as the July 4th event's second and last skin. She is Chica's first custom skin.
Liberty Chica's design is based on the Statue of Liberty in the United States. She is made out of copper, as well as her cupcake. Liberty Chica also wields a copper book which reads "July IV, MDCCLXXVI." These are Roman Numerals translating to "July 4th, 1776," the date the Declaration of Independence was signed.

The Torch Cupcake is the Cupcake's copper-made counterpart and engulfing flames, mimicking as the Statue of Liberty's Olympic torch.

Catrina Toy Chica
Catrina Toy Chica is Toy Chica's variant based on the Day of the Dead celebration, added on October 22, 2020 as the Halloween event's first skin and presumably the last one. She is Toy Chica's second custom skin, after Highscore Toy Chica.
Catrina Toy Chica is a light, dull, greenish-gray color with a dark gray beak and glowing red eyes and mouth. She has blue face paint of flowers around her eye sockets. She has large black hair with red tints, with sugar skulls, marigolds and smaller blue flowers decorating her head, and she has painted markings all over her body, most notable on her legs.
The Calavera Cupcake is the Toy Cupcake's "Day of the Dead" variant. It is based off a sugar skull, baring glowing red eyes, pink and blue facepaint and golden teeth.

Gallery
The following information contains

spoilers

. To view them, click the [show] tag.
---
Shamrock Freddy
Chocolate Bonnie
Easter Bonnie
Firework Freddy
Liberty Chica
Catrina Toy Chica
Merchandise
Video
Audio
Warning: The audio clips from the following list are loud!
| Audio | Description |
| --- | --- |
| | The sound made when Shamrock Freddy and Firework Freddy attacks the player. |
| | The sound made when Chocolate Bonnie and Easter Bonnie attacks the player. |
| | The sound made when Liberty Chica attacks the player. |
| | The sound made when Catrina Toy Chica attacks the player. |
Trivia
While confirming that the "Christmas update" for Five Nights at Freddy's 4 wouldn't happen, Scott Cawthon jokingly said on his Steam reply that Freddy would dress in Santa's costume for the update.[1]
In addition to the confirmation of the Chocolate Bonnie action figure, two new animatronics, Chocolate Freddy and Chocolate Chica will have their action figures.[2]
Firework Freddy and Liberty Chica are the only holiday animatronics to have different charge and defeat animations.
Catrina Toy Chica's name and model design is influenced by La Calavera Catrina (The Skull Catrina).
Bugs
When Chocolate Bonnie was added, there was a bug during his delivery encounter, where RWQFSFASXC's delivery encounter would show up for him. Suddenly, it would go back to his regular delivery encounter. However, Chocolate Bonnie would rapidly charge the player continuously with no intention of stopping. This was fixed the day after the update's launch. This bug can be seen in Dawko's video [2].
References
Community content is available under
CC-BY-SA
unless otherwise noted.