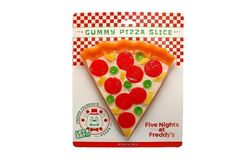 The Gummy Pizza Slice is a fruit gum candy in a shape of a giant pizza slice. This rare product is sold exclusively in FYE since February 23, 2018.
It contains various fruit flavors:
Orange for the crust.
Green apple for the olive toppings.
Strawberry-banana for the cheese.
Cherry for the pepperoni toppings.
Mango for the shredded cheese toppings.
Description
Fuel your night shift at Freddy Fazbear's Pizza with this GIANT gummy pizza slice. Since it comes with ALL the toppings, you should have plenty of energy to stay vigilant. Sweet gummy flavors include: orange, green apple, strawberry-banana, cherry and mango.[1]
References