"I always come back..."


This article refers a content related to the upcoming planned media for the franchise's future. Anything that is added to the article without a reliable source may be deleted without warning.
Not what you were looking for? See Chica (disambiguation).
Glamrock Chica is Chica's Glamrock counterpart who will appear in the upcoming Five Nights at Freddy's: Security Breach.
Physical Appearance
Glamrock Chica is a white-pink chicken with an orange beak, blue eyes, purple eyelids, and orange feet. She has a few stray "feathers" that stick out from the top of her head with a pink hair bow, visible pink metal segments below her left eye, and a pink marking around her right eye, along with having long eyelashes. She also sports two green triangular-shaped earrings. Much like her toy and funtime counterparts, Glamrock Chica's body is noticeably curvy, rather than simply round and ovular like the original Chica's.
Like the other Glamrock animatronics, she is dressed in 1980s-era clothing. She has a pink chest piece, a narrow metallic waist, small pink shoulder guards above her segmented arms, which end in green gloves, and green and pink sports tape wrapped around her heels (resembling leg warmers), along with green eye rings.
Like Roxanne Wolf and Montgomery Gator, Chica holds a blueberry blue and hot pink guitar.
Role
Glamrock Chica appears to be the band's guitarist during the day shows. A large picture of her also appears in the main area next to Glamrock Gifts as does a banner that appears to have the same image.
Her role in the game and alignment to the player are currently unknown.
Trivia
The following information contains

spoilers

. To view them, click the [show] tag.
---
Glamrock Chica's appearance bears some resemblance to Funtime Chica.
Glamrock Chica is one of two counterparts of Chica to not wield a cupcake, but instead an instrument, the other being Rockstar Chica.

Withered Chica may also be counted as she does not wield a cupcake. However, she does not wield an instrument as she lacks hands.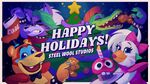 Glamrock Chica is the second Chica counterpart not to have a bib, the first being Funtime Chica.
Glamrock Chica was seen with a cupcake in a holiday promotional art, but it's unknown if Glamrock Cupcake will be in the actual game.
Appearances
Community content is available under
CC-BY-SA
unless otherwise noted.