Not what you were looking for? See Freddy (disambiguation).

Or were you looking for his Fury's Rage counterpart Ice Freddy?
Freddy Frostbear is a winter counterpart of Freddy Fazbear. Created and delivered by Fazbear Funtime Service, he is encountered in Five Nights at Freddy's AR: Special Delivery. He made his first appearance on December 25, 2019 for the 2019 Christmas event as the game's first brand-new original character, with the second being 8-Bit Baby for 2020's Arcade Mayhem event.
He later returned in Spring 2020 from April 3rd to April 8th, and reappeared again on September 24, 2020 for a mini mashup event until next month with the launch of the Halloween event. Frostbear came back once again for the majority of the Winter Wonderland event that started on December 4, 2020. He returned in July 16, 2021 for the Freddy Festival Blast from the Past event. He came back again for Festive Frights event on December 2021.
Physical Appearance
Frostbear is a completely reskinned model of the original Freddy Fazbear, albeit composed entirely out of ice, with glowing cyan/white eyes and small icicles hanging off of his ears. He has a darker blue color shading for the nose, eyebrows, and the inside of his ears. He wears a plaid bowtie, and a mistletoe for his dark-frozen blue top hat. In place of his microphone, he carries a large icicle.
His endoskeleton appears to have different shadings of winter-themed blue colors.
Personality
He has a different personality compared to the original Freddy. He never speaks in battle, but he does send the player emails, taunting the player with a bunch of cold puns. Ironically enough, he seems to be afraid of the cold even though he is literally made out of ice. However, he still has his connective similarities to Freddy Fazbear, as he is equally malicious and hostile.
Role
Gameplay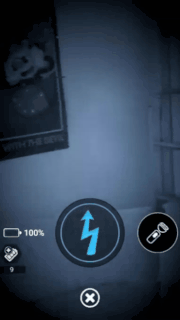 He functions almost the same way as Freddy Fazbear except with three differences - He cannot speak to the player, he is noticeably more difficult, and static will not show up. In place of static, his special ability is to freeze the screen, which disables the ability to use the controlled shock button. To counter the frozen screen, the player must shake their device for the frost to wither away. To defeat Frostbear, the player must simply catch him and shock him as per usual.
Available Skins
At this point, Freddy Frostbear has one skin:
Drop Rates
| Item | Image | % Wandering | % PVP | % Rampaging |
| --- | --- | --- | --- | --- |
| Plush Suit | | 45% | 60% | 75% |
| CPU | | 36% | 56% | 69% |
| MOD | N/A | 1% | 10% | 5% |
Trivia
Before he first became available in the game, he had sent some emails to the player to tease his advent:
"Brrrrrr! Sure is cold, wouldn't you say?! Hope your place is nice and warm!"
"On my way! I'm so f-f-f-f-fun! I'm cool enough to be your new best friend!"
"I'm almost here... Won't you let me come in out of the cold?"
Both Frostbear and Ballora are the only animatronics in the game to digitally communicate with players by sending e-mail messages, so far.
He is one of four animatronics to be featured in the game's app icon via update patches, with the others being Freddy Fazbear, Plushtrap, and his Black Ice skin.
Freddy Frostbear's Plush Suit takes no condition effects when damaged, but strangely enough, this is not the case for his Black Ice skin.
In Five Nights at Freddy's: Security Breach, Freddy Frostbear appears in the Frozen Land pinball machine with Frost Plushtrap and Frostbite Balloon Boy.
Gallery
The following section is rather large and has been truncated for ease of page viewing.
To view it, click the [show] tag.
---
Gameplay
Assets
Animations
Merchandise
Miscellaneous
Audio