"Oh, birthday boy! Get ready for a surpriiiise!"


Remain mindful that this page may contains spoilers for related material. If you are new to anything, like if you have not played the game or read the book yet, please read at your own risk!
"I always come back..."


This article refers a content related to the upcoming planned media for the franchise's future. Anything that is added to the article without a reliable source may be deleted without warning.
Not what you were looking for? See Freddy (disambiguation).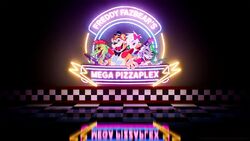 Freddy Fazbear's Mega Pizzaplex is Fazbear Entertainment's mall-based pizzeria restaurant and Security Breach's primary setting.
The pizzeria's main mascot is Glamrock Freddy of the glamrock band, which also includes Glamrock Chica, Montgomery Gator, and Roxanne Wolf.
History
"Hey, kids! Do you want pizza?! Well, Fazbear Entertainment has spared no expense developing the world's most extreme family fun center – Freddy Fazbear's Mega Pizza Plex! At three stories tall, it's the flashiest, raddest, rockingist, safest* pizzeria the universe has ever seen. Of course, Freddy and the band are excited to meet you! Utilizing the latest in animatronic technology, you can actually party with the stars themselves. So, on your next birthday, let Freddy Fazbear's Mega Pizza Plex make you a SUPERSTAR!

* Disclaimer: Fazbear Entertainment cannot guarantee guest safety"
— Reveal for PS5, Five Nights at Freddy's: Security Breach
Gallery
Trivia
This is the first pizzeria in the entire franchise to have a futuristic themed version/style.

It is also the first pizzeria to include more assets and decorations, and is the biggest pizzeria of the entire franchise.
Unlike previous pizzerias, Pizzaplex is a mall.

Leaked by the upcoming calendar's updated cover, this is the very first Fazbear Entertainment location of the entire Five Nights at Freddy's franchise to have an official logo. Noticeably, the main glamrock animatronics from the logo bear a much more non-robotic/organic-looking appearance, besides the cartoon-styled looks.

Two logos also briefly appear on both sides of the entrance in the first trailer for Security Breach.

As seen in the second trailer, the place doesn't just have the Glamrock Animatronics as animatronics, three robots are seen working as attendants or delivering food.