Not what you were looking for? See Foxy (disambiguation)
Foxy Go! Go! Go! is one of the four random death minigames from Five Nights at Freddy's 2 that can be only accessed after dying.
This event takes place at Freddy Fazbear's Pizza where William Afton took the lives of five children.
Playthrough
Playing as Foxy, the player walks out of what appears to be the curtained Pirate Cove and into a room with children, who celebrate his arrival. All five children appear to be happy, with the bottom one offset, so it looks sad due to the black bars. The player is then returned to the curtained area and has to repeat this twice.
On the third cycle, William Afton can be seen standing in the corner of the starting room, smiling. When Foxy approaches the children, they seem dead. The minigame then ends with Withered Foxy's jumpscare.
Trivia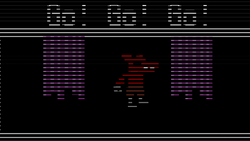 Foxy's sprite appeared as one of the collectible 8-bit construction sets by McFarlane.
From the older version of the mobile port, the area is slightly shorter and only three children were seen.
William Afton's sprites from this minigame is used in the "Take Cake to the Children" minigame as well.
The "Foxy Go! Go! Go!" minigame is the only death minigame in which letters are not called out in the background.
Gallery
Audio
| Audio | Description |
| --- | --- |
| | Main static noise. |
| | The sound of confetti fireworks. |
Community content is available under
CC-BY-SA
unless otherwise noted.