Were you looking for the graphic novel, or anything else relating to Freddy (disambiguation)?
Five Nights at Freddy's: The Silver Eyes is a horror mystery novel written by Scott Cawthon and Kira Breed-Wrisley, based on the best-selling video game series. It is the first entry in the novel trilogy, and is followed by The Twisted Ones and The Fourth Closet.
Summary
Based on the bestselling horror video game series, Five Nights at Freddy's. The book follows a young woman named Charlotte, who reunites with her childhood friends on the anniversary of the tragedy that ripped their town apart. It's been exactly ten years since the murders at Freddy Fazbear's Pizza, and Charlotte, who goes by the name Charlie, has spent the last ten years trying to forget. Her father had owned Freddy Fazbear's Pizza, and had built its four adult-sized animatronic animals. After meeting up with her friends, curiosity leads them back to the old pizza place, and they find it hidden, but still standing. They discover a way inside, but things are not as they used to be: the four mascots that delighted and entertained them as children have changed. The animatronic animals have a dark secret, and a murderous agenda.
Reception
The novel was positively received, given 4.6 out of 5 stars from Amazon, 4.19 out of 5 from Goodreads, 4.7 out of five from Google Play, and 4.7 out of 5 from Barnes & Nobles.
Trivia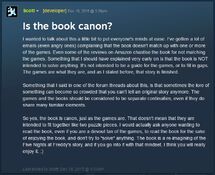 The Silver Eyes is the first-ever book written by Scott Cawthon.
During production where the early book cover is first teased, the novel's placeholder title is Five Nights at Freddy's: The Untold Story.
After Scott signed a deal with Scholastic, they changed the cover of the book with the official logo of the series.
According to Scott, the book took 10 months to write.
Scott Cawthon has commented in a steam post that Kira had written most of the scenes outside the pizzeria while he wrote most of the scenes inside the pizzeria with Kira editing them afterward to clean them up.[1]
The book initially was supposed to be available on the Amazon Kindle on December 22, 2015, but was released slightly earlier on the 17th.

In a steam comment, Scott said that the book was released days earlier than he suspected due to Amazon's release date system.[2]

Fans were disappointed that the novel has no answers to the mysteries on the game franchise. As fans had claims of the book's lore conflicting with that of the games' lore, Cawthon replied.[3]

Scott's reasoning on why the book is set in an entirely different universe is because the games had no room for more and that an exact game adaption for a book wouldn't work.[4]
Gallery
Covers
References