Not what you were looking for? See Five Nights at Freddy's (disambiguation), or the PC & Console version of the same name.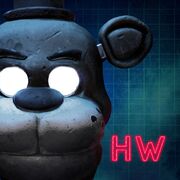 The mobile port of Five Nights at Freddy's: Help Wanted was released on October 26, 2020 by Steel Wool Studios for iOS and Android.
Description
This is the mobile version of Five Nights at Freddy's: Help Wanted, a collection of classic and original mini-games set in the Five Nights universe.
Survive terrifying encounters with your favorite killer animatronics in a collection of new and classic FIVE NIGHTS AT FREDDY'S™ experiences. "Where fantasy and fun come to life!"
YOU'RE HIRED - Time to get your hands dirty. Repair claustrophobic ventilation systems, troubleshoot broken animatronics that could activate at any moment, or spend your evenings cowering in the nighttime security guard office.
PIZZA PARTY - Scenes from classic titles have been updated and remade for a fully immersive experience including Five Nights at Freddy's, Five Nights at Freddy's 2, Five Nights at Freddy's 3, Five Nights at Freddy's 4, and Five Nights at Freddy's: Sister Location.
Differences
In the initial release, only the following game modes are available:
The following is a list of missing game modes:
A new minigame called Princess Quest is currently exclusive to the mobile port of the game. Occasionally, a grid pattern will appear on objects at the Prize Counter. To unlock Princess Quest (and all currently locked game modes), the player must zoom in on one of these glitching objects. Afterwards, the screen will fade to black and fade back in at the level select with everything unlocked and Princess Quest on the side monitor.
Trivia
The trailers were released early on Steel Wool Studios official YouTube channel on October 21, 2020.

Due to the release of the trailer, this confused many people into why the game was nowhere to be found in the App Store and Google Play on the same day.

Claims of updates and patches has already been announced.
There seems to be a high chance if not already confirmed a Curse of Dreadbear DLC port as well so there is a possibility for a 2nd Exclusive mini-game that may continue the "plot" of Princess Quest or be something entirely different.
It is unknown why some of the game modes are missing, this could have been intentional because of the limited mobile software or most likely that the rest of the gamemodes are going to be implemented in the future.
Bugs
"PLEASE STAND BY"


This section is empty with missing content. You can help out by adding to it.
Gallery
The following section is rather large and has been truncated for ease of page viewing.
To view it, click the [show] tag.
---
Screenshots
Miscellaneous
Videos