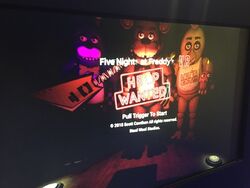 The demo version of Five Nights at Freddy's: Help Wanted was released approximately around early 2019. It was only playable at PAX East but was not be released to the public.[1]
Gameplay
The demo is featured with only three main level modes:
Completing or losing the level will take the player to the room which appears to be an earlier version of the Game Over Room with the "Thanks for playing" text for the television's static screen. A random jumpscare will suddenly trigger if the player attempted to restart the level or leave the room, leading back to the main menu.
Trivia
The main menu's copyright message suggests that the game itself has started its production since 2018.
References