Not what you were looking for? See Endo (disambiguation).
"Because look at him!"
— Endo-01's Loading screen.,
Endo-01 is one of the playable characters in FNaF World. He is the endoskeleton that is seen backstage in the first Five Nights at Freddy's game.
Appearance
Endo-01 has mostly the same appearance as his core series counterpart except smaller and with a red button on the torso.
Attacks
| | | Temporarily increases the party's attack power. |
| --- | --- | --- |
| | | Temporarily increases the party's defense. |
| | | Summons three temporary Endoskeletons with lasers that damages enemies over time. |
Strategy
Endo-01 is a huge companion for a supporting character. His newest attacks; Power Song and Armor Song can increase Attack or Defense to all characters for one turn.
Endo-01 also has an attack that can summon an Endo Army, which can deal damage to enemies over time (around 30 seconds) which can deal roughly around 200-500 damage for each shot each endoskeleton randomly shoots.
Trivia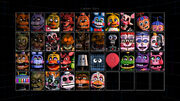 Endo-01 was supposed to be in Ultimate Custom Night with Candy Cadet but both of them were replaced by Withered Bonnie and Withered Chica. While Candy Cadet is in the Office, Endo-01 is nowhere to be found.
Endo-01 was the first character in the series to get a redesign for the game.
Endo-01's loading screen possibly resembles how he was first shown for FNaF World, as Endo-01 was the first character to get a redesign for the game.
Endo-01 is the only endo character to not have the "Neon Wall" attack.
When Endo-01 attacks, the upper parts of his body separate and his torso button flashes. This may be to show a self-destruct, as Endo-02 definitely does.
Endo-01 and Crying Child are the only two characters to have two white attacks.
Endo-01 strangely has some sort of red glowing button on his torso, while his core series counterparts don't seem to have this feature.
Community content is available under
CC-BY-SA
unless otherwise noted.