This article refers to a different character. See Baby (disambiguation) for pages related to Circus Baby.
Egg Baby is an animatronic who makes its first debut in Freddy Fazbear's Pizzeria Simulator.
Physical Appearance
Egg Baby is a large potato-shaped animatronic with a puggy nose, big eyes looking up to the upper right, red/violet rosy cheeks, lighter-brown eyebrows, three large stubby fingers as hands, and a wide smile with a two pair of buck teeth. It appears to wear grey-blue pants and a beanie (with somewhat a red button up top), and a pair of red shoes.
Its stomach features a large circular hole, revealing its smaller version with a nearly same model. There is what appears to be a red/violet-colored egg for the smaller model's opened area.
Functionality
Evidenced by the Insanity Ending, Egg Baby is capable to possibly scan the blueprints of Fazbear Entertainment and Afton Robotics, LLC installments, hence its alternate name Data Archive.
Appearances
Freddy Fazbear's Pizzeria Simulator
Egg Baby is labelled in the "Rare Finds Auction" category from the Catalog menu. Classified as "Very Good" in item condition, Egg Baby is worth $6000. Its stats are as follows:
Atmosphere: 5
Health & Safety: 0
Entertainment: 5
Bonus Revenue: 0
Purchasing Egg Baby for the pizzeria is also a part of unlocking the Insanity Ending.
Ultimate Custom Night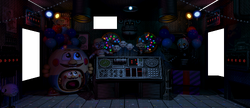 In
Ultimate Custom Night
, Egg Baby appeared as one of the environmental props for the
Sister Location-themed Office
, from the left side next to the control machine.
Trivia
Freddy Fazbear's Pizzeria Simulator
Miscellaneous
Community content is available under
CC-BY-SA
unless otherwise noted.