Not what you were looking for? See BB (disambiguation).
"Uh-oh! How unfortunate. Uh-oh! How unfortunate. I know how much you like to fight, so I'll add a new problem to your night!"
— Dee Dee, Ultimate Custom Night
Dee Dee, abbreviated as DD, is a character who first debuted in FNaF World.
Physical Appearance
Dee Dee is a humanoid-looking animatronic, looking very similar to BB and JJ. She has purple pants, a yellow and pink pattern on her shirt and hat, light brown hair, pink cheeks, a large, pink propeller on her beanie and a single large dark-violet button on the shirt.
She is actually a recolor of the FNaF World incarnation of JJ but with only one big button on her chest instead of two, and the ball on top of her propeller being much bigger.
Personality
Based on her Ultimate Custom Night quotes, Dee Dee sounds very mocking and mischievous as she tends to talk in sing-song. She is also very annoying, even more annoying than BB.
X.O.R.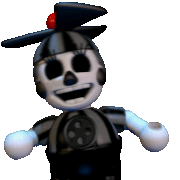 X.O.R. is the shadow counterpart of Dee Dee, debuts in the Ultimate Custom Night as an enemy.
She has empty eye-sockets and she's monochrome colored, save for the red button on her propeller. When in the office, she will move from side to side rapidly, glitching. This is accompanied by deep garbling noises.
Trivia
Along with Funtime Foxy, Old Man Consequences, Circus Baby, and Lolbit, Dee Dee is one of the several FNaF World characters to appear in the core series.

In FNaF World, she holds a fishing rod, but does not in Ultimate Custom Night.
Her name in FNaF World is just "DeeDee" without a single space between.

DeeDee is the only animatronic NPC character in the game that isn't a store owner or a boss, but rather something else. This trophy, the Pearl itself appears in battle as a byte, healing the player's team like the Med Pods.
In the 1.1 update, DeeDee, Auto Chipper and Browboy are the only characters to appear facing down instead of left or right.
From the Character Guide announcement on the game's Steam page, Scott describes the mechanics for Dee Dee with his own words. Although Dee Dee does not have her own description in-game due to lacking customizable AI:
"She appears at random and can add a new animatronic to your game. The animatronic added will not be announced, so you will have to quickly look at your cameras and other systems to find out who it was! Dee Dee also has the potential to add one of three characters not listed on the character select screen."
— Character Guide - Ultimate Custom Night. June 15, 2018. [1],
The "A NEW CHALLENGER HAS APPEARED!" text along with its audio are directly reused from FNaF World used when the unlockable "challenger" character is found.
X.O.R's garble is actually a heavily edited version of the normal Dee Dee's "sneaky thing" line, played in a lower pitch, sped up, and reversed. It can be seen here.
There is a glitch when X.O.R's garble will play in the game over screen when she appears during an animatronic's jumpscare. This can be seen here.
In Scott Cawthon's interview with Dawko, he says the following on naming Shadow Dee Dee:
"I named Shadow Dee Dee X.O.R., and I'm not sure why. But like with most of the other characters in this franchise, whenever I'm making them, the name immediately comes to mind. It doesn't mean anything but that's the name of Shadow Dee Dee."
— Scott Cawthon, An Interview with Scott Cawthon - The Creator of Five Nights at Freddy's [2]
Interestingly, XOR is a logical operator used in programming that means "exclusive or." While the operator "or" returns true when at least one of two compared things are true, XOR returns true only when one of the two compared things are true. More information can be found here. However, as stated above, there is no meaning to Shadow Dee Dee's name.
Appearances
References
Community content is available under
CC-BY-SA
unless otherwise noted.