"Next joke loading..."
— Comedy Bot, Five Nights at Freddy's: Security Breach
The Comedy Bot is a unique S.T.A.F.F. Bot individual from Freddy Fazbear's Mega Pizzaplex of Five Nights at Freddy's: Security Breach.
Physical Appearance
It is a S.T.A.F.F. Bot wearing a bowler hat, a darker blue vest with a black bowtie, has sad-looking eyebrows above the eyes, and holds a microphone. The bot speaks in a masculine text-to-speech voice.
Functionality
This S.T.A.F.F. Bot was programmed to tell jokes and amusing comments like a stand-up comedian, also using hand gestures.
Role
The Comedy Bot was found in the Fazbear Theater but has a very minor role. It merely stands on the auditorium stage and make jokes to the audience, which only consists of a lone S.T.A.F.F. Bot.
Once the Comedy Bot has finished its performance, the Magician Bot will take its place and vice versa.
Trivia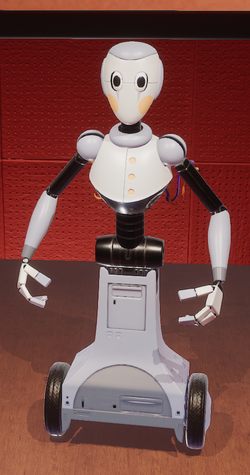 When the Comedy Bot was introduced in the game's initial release, it uses a basic S.T.A.F.F. Bot model, but due to a glitch, this bot hardly does anything. The Comedy Bot's own special model was discovered in the game files but was left unused, with almost completed animations as well.

In v1.05, the glitch was fixed. Therefore, the Comedy Bot can now perform normally.[1]
In v1.07, the Comedy Bot's unique model was finally re-implemented.

From the game's first release, using the Fazerblaster or the Faz Camera on the Comedy Bot will trigger it to say the tampering warning message like the rest of the S.T.A.F.F. Bots. However, it was no longer possible to do so as of the v1.07 update.
The Comedy Bot mentions Jeremy's name when joking about bad parenting. Jeremy was the name for the second game's protagonist, one of William Afton's victims, and Jeremy mentioned in Help Wanted.
Gallery
Audio
| Audio | Description |
| --- | --- |
| TBA | "I just rolled in here, and boy are my wheels tired." |
| TBA | "As you might have noticed, I am a robot. Do you know what the difference between humans and robots is? Humans are like: "Whaaah! I am going to get old and die." Robots are like: "I will outlive you all."" |
| TBA | "What a great audience." |
| TBA | "Next joke loading..." |
| TBA | "Is anyone here from out of town?" |
| TBA | "Is anyone here?" |
| TBA | "Pause" |
| TBA | "So, where are you from? How interesting. I've never been there. I am confined to this building. Tell me; where you come from, do they call it pop or soda? Well, here we call it half off at our concession stand for the next fifteen minutes. And that is no joke." |
| TBA | "But seriously, what is the deal with hot dogs? Turns out, it's 2 for 1 at the concession stand. That is a pretty good deal." |
| TBA | "So, where are all my single dads? Any single dads tonight? How about my single moms? Any single moms tonight? - There is no punchline. This collected data will be shared or sold to Fazbear Entertainment's marketing and business affiliates." |
| TBA | "Segue missing... Accessing gag file." |
| TBA | "Aren't parents the worst? Any of you kids have parents? Don't you hate it when your parents take you somewhere fun then abandon you? They are all like: "I guess if I dump little Jeremy off at his favorite pizzeria before I move to Aruba, that makes me a good parent."" |
| TBA | "Warning! Tampering with Fazbear automated staff will result in suspension of your membership." (Removed as of V1.07) |
References