A list of collector clips (keychains and hangers) based on the Five Nights at Freddy's characters, created by Just Toys. They were first released since late 2015.
List
Series 1
The first line consists of Balloon Boy, Bonnie, Chica, Foxy, Mangle, Freddy Fazbear, the Puppet, Toy Bonnie, Toy Chica, and Golden Freddy. A rare "Chromed" Freddy hanger is sold exclusively from GameStop.
Series 2
The second line consists of Nightmare Freddy, Nightmare Foxy, Plushtrap, Nightmare Mangle, Nightmare Fredbear, Nightmare Bonnie, Nightmare Chica, William Afton/Springtrap, Jack-O-Chica, Jack-O-Bonnie, Nightmare Balloon Boy, and Nightmarionne.
Series 3
The third line consists of Circus Baby (with another variant), Ennard, Funtime Foxy (with another variant), Minireena (with another variant), Funtime Freddy, Ballora, and Bidybab.
Exclusive 3-Pack
A pack is exclusively sold from Comic-Con on 2016. The set comes with Foxy, Freddy Fazbear, and Balloon Boy with glossy-black eyes.
Trivia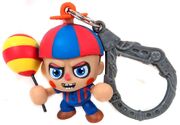 When Balloon Boy's keychain was first released, his design originally featured a mechanical right hand, a broken sign, and a missing balloon. Due to lack of official design, the Series 1 clips are re-released with Balloon Boy redesigned later on.
Community content is available under
CC-BY-SA
unless otherwise noted.