The Blacklight Slime products are slime toys and released on September 11, 2020 for stores like GameStop and Hot Topic by Just Toys.[1] They are blacklight-colored slime materials sold in small plastic cans, and comes with animatronic-shaped lids.
Wave 1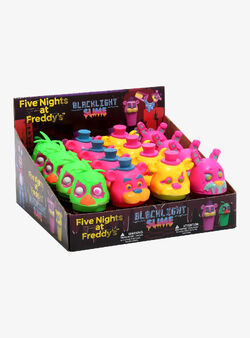 Wave 1 consists of Freddy Fazbear, Nightmare Freddy, Nightmare Chica, and Springtrap.

Wave 2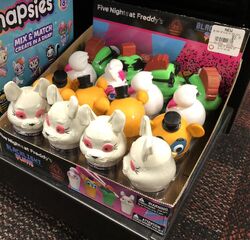 Wave 2 consists of Glamrock Freddy, Glamrock Chica, Montgomery Gator, and Vanny.

Trivia
From the official announcement image, Foxy and Nightmare Cupcake slimes were considered but never found in any stores.
References