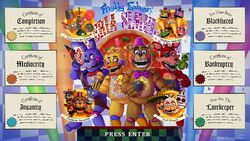 Badges and Certificates are unlockable rewards in Freddy Fazbear's Pizzeria Simulator. While these achievements do not add anything to the overall gameplay, the player will receive certificates and badges for their efforts should certain conditions be met.
Badges
There are four badges the player can unlock by placing specific animatronics on their stage together. These badges will appear on the opening screen when acquired.
Trash and the Gang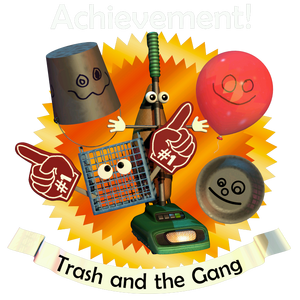 Conditions: Have Bucket Bob, Mr. Can-Do, Mr. Hugs, No. 1 Crate, and Pan Stan on the stage(s).
Achievement Bonus: $1,000
Mediocre Melodies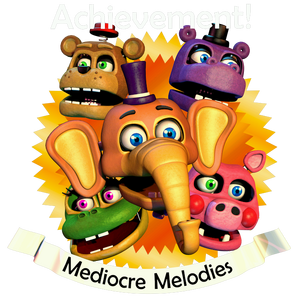 Conditions: Have Orville Elephant, Happy Frog, Mr. Hippo, Nedd Bear, and Pigpatch on the stage(s).
Achievement Bonus: $10,000
Rockstars Assemble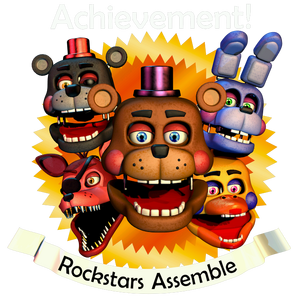 Conditions: Have Rockstar Freddy, Rockstar Bonnie, Rockstar Chica, Rockstar Foxy, and Lefty on the stage(s).
Achievement Bonus: $20,000
Posh Pizzeria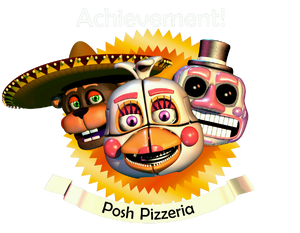 Conditions: Have Funtime Chica, El Chip, and Music Man on the stage(s).
Achievement Bonus: $50,000
Certificates
Like the badges, there are six certificates the player can achieve by meeting specific criteria. Most of these are obtained when the player arches a certain ending.
Certificate of Backruptcy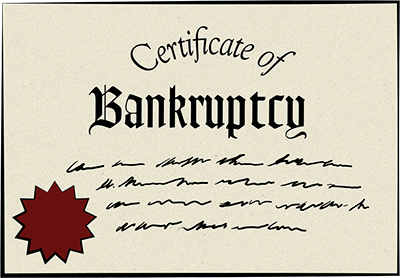 Conditions: Get a negative amount of money. This is only possible through paying for lawsuits.
Note: After the player receives this ending, the game closes. It is unknown why this happens.
Certificate of Completion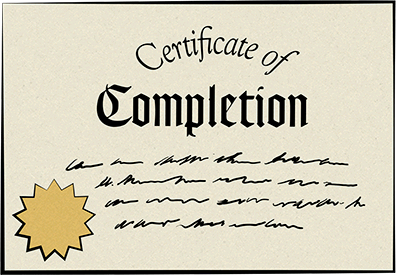 Conditions: Salvage all of the animatronics and complete all five days.
Certificate of Mediocrity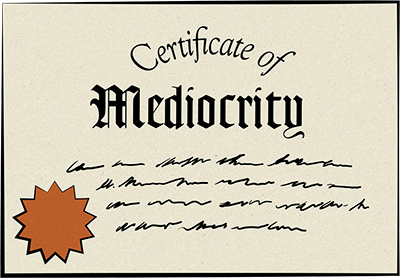 Conditions: Not salvaging any of the animatronics or buying any items.
Certificate of Insanity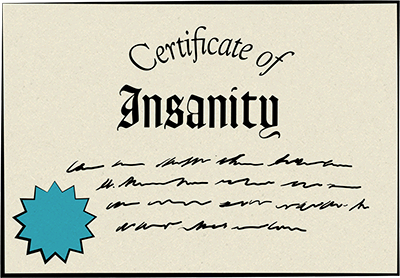 Conditions: First, buy the Egg Baby. Then, enter the Office and touch the blue button near the monitor. Turning it off and on again will activate three blueprints and an audio log of the Cassette Man.
You Have Been Blacklisted


Conditions: Getting ten or more lawsuits and have 50 or more Risk.
You Are The Lorekeeper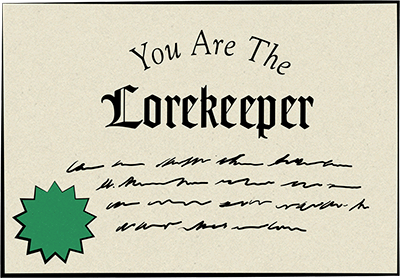 Conditions: Find and complete all of the secret minigames. This means:
Win Fruity Maze twice then lose the next game by running out of time.
Enter the gap in the bottom wall of lap 4 in Midnight Motorist.
Play Security Puppet until the child with the green wristband appears.
Community content is available under
CC-BY-SA
unless otherwise noted.