Not what you were looking for? See Animatronic (disambiguation), Mangle (disambiguation), or Spring Bonnie (disambiguation).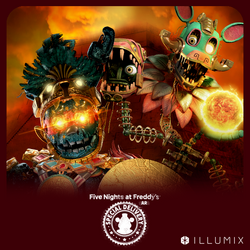 "Things are stirring-- Old things, ancient things... Are you ready to face them?"
— Summary, FNAF AR Twitter Account
The Aztec animatronics are animatronic skins of Five Nights at Freddy's AR: Special Delivery, based on the elements of the Aztec culture.
Only two animatronic skins are available, introduced for the Ancient Equinox Event, which started on March 5, 2021.
Animatronics
Serpent Mangle
Serpent Mangle is Mangle's Aztec skin available on March 5, 2021 for the Ancient Equinox Event. They are Mangle's second animatronic skin, after Magician Mangle in the Dark Circus Event.
Serpent Mangle has green coloring on their head and hands. Their endoskeleton arms and legs are laced with red, green and yellow components. Serpent Mangle has wooden brown teeth, golden brick on their cheeks and around their snout and a giant dahlia flower with red and white petals around their neck. Their left eye is a regular one with a glowing yellow retina, and their right eye is entirely orange, similar to the sun. Mangle's second head is inside the mouth of a fake dragon head. The second head, as usual, has Serpent Mangle's right eye. Serpent Mangle carries miniature versions of both the sun and the moon, with the tiny sun giving off a small glow of light, similar to the actual sun.
The Curse
The Curse is Springtrap's Aztec skin available on March 5, 2021 for the Ancient Equinox Event. He is Springtrap's fourth animatronic skin, chronologically after Clown Springtrap, Flaming Springtrap, and Toxic Springtrap.
The Curse is an Aztec warrior. He has a golden helmet that has green shrubbery above it alongside his green rabbit ears, with the front having a realistic depiction of the eyes and snout of a lion. The Curse has green skin, although the part of his face around his eyes are red, and the eyes themselves glow a searing yellow. He wears golden pauldrons checked with red Xs in the center of each square to cover his shoulders. He also has a golden necklace with a plate filled with red and blue gems. His left arm and legs have orange and yellow burns, while his right arm is holding a grey, circular Aztec shield that's cracked. The Curse's right hand is made entirely of feathers, dyed to have a green, yellow and red striped pattern. The Curse wears a green leaf skirt on his midsection, while a circular golden medal sits in the center of his chest.
Trivia
The Curse is Springtrap's only skin, as well as the only animatronic skin of the entire sets, to have a very own unique name instead of his original name with a term. For example, the Curse doesn't mention Springtrap's name while others like Flaming Springtrap do.
The Aztec Animatronics are the second set of animatronic skins to have two skins released on the same day, the first set is Heartsick Baby and Black Heart Bonnie.
Audio
Warning: The audio clips from the following list are loud!
| Audio | Description |
| --- | --- |
| | The sound Serpent Mangle makes when attacking the player. |
| | The sound The Curse makes when attacking the player. |