Not what you were looking for? See Animatronic (disambiguation), Freddy (disambiguation), Chica (disambiguation), Bonnie (disambiguation), or Baby (disambiguation).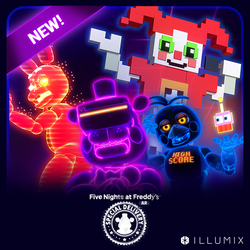 "Got your game on?"
— Summary, FNAF AR Twitter Account
The arcade animatronics are video game-themed animatronics who appeared in Five Nights at Freddy's AR: Special Delivery as limited time-only custom skins for the animatronics.
They were first introduced for the Arcade Mayhem Event that started on May 7, 2020 for a limited time, and expired on June 10th. The arcade animatronics came back on August 20, 2020 for a short while until the Circus Event began a week later. 8-Bit Baby later returned for the Blast from the Past Event part two on October 1, 2020.
Physical Appearance
All of the arcade animatronics are based on the toy and funtime animatronics. With the exception of 8-Bit Baby, the arcade animatronics are featured with neon skin textures and colors, reminiscent of Neon Bonnie and Neon Chica from Help Wanted. Each one comes with a few unique video game-styled traits.
The animatronics have a capability to switch between two different forms, excluding System Error Toy Bonnie.
Standalone Animatronics
8-Bit Baby
Main article: 8-Bit Baby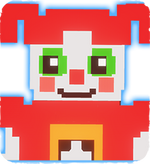 8-Bit Baby is a version of Circus Baby as well as the fourth and last arcade animatronic released on May 28, 2020. Unlike other arcade animatronics, 8-Bit Baby is a whole new character with her own CPU included.
8-Bit Baby's appearance is heavily based on Circus Baby's minigame appearance from Sister Location but has green eyes to reference Elizabeth Afton's soul taking over Circus Baby. In her workshop mode, the eyes tend to glow a luminescent green.

Animatronic Skins
All of the arcade animatronics behave identically to their original counterparts, except they are more aggressive and give less time for actions to be done to them.
VR Toy Freddy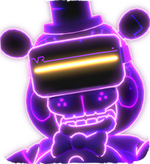 VR Toy Freddy is a version of Toy Freddy and the first arcade animatronic skin released on May 7, 2020. He is Toy Freddy's first official skin. As he returned with other arcade animatronics on August 20, 2020 for a mini event, he later came back on July 16, 2021 for the Freddy Festival event.
In his Workshop mode, his appearance glows with dark purple and black neon color, which also applies to his hat, bowtie, buttons, and microphone. He is textured with few cyber-styled circuit lines and wears a virtual-reality headset.
In his attack mode, titled Attack-Mode Toy Freddy, his main skin color changed into fiery orange and textured with glowing veins that look like circuit webs. His headset is absent, revealing shining greenish-yellow eyes with circuit-like "eyebrows".

Highscore Toy Chica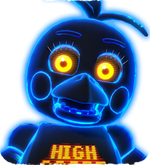 Highscore Toy Chica is a version of Toy Chica and the second arcade animatronic skin released on May 14, 2020. She is Toy Chica's first skin.
In her Workshop mode, her appearance is pitch-black in color with glowing blue aura effects, and she sports orange/yellow irises. Her forearms appear more bluer and contain poly-count textures. The "LET'S PARTY!" text for her bib is replaced by "HIGH SCORE" in a pixelated font.
In her attack mode, called Game-Over Toy Chica, her glowing blue aura effect changed into purple and red. Her eyeballs are removed to reveal red lens-like sclera, and her bib text has now changed into "GAME OVER". Her beak is also removed, similar to her original counterpart. Highscore Toy Chica's cupcake, 8-Bit Cupcake, resembles Toy Cupcake but based on an 8-bit sprite and appears full 2D in design.

System Error Toy Bonnie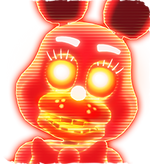 System Error Toy Bonnie is a version of Toy Bonnie and the third and last arcade animatronic skin released on May 21, 2020. He is Toy Bonnie's first skin.
System Error Toy Bonnie's general color (including his bowtie) is a mix of orange and hot reddish-pink, and textured with scanlines all over him. His mouth and eyes gleam yellow, a red "SYSTEM ERROR" text printed on his stomach, and glowing white eyebrows, freckle spots, and a nose. His whole body also emits pixel-like particles.
Unlike the other arcade animatronics, System Error Toy Bonnie has only one form.

Trivia
When viewing the arcade animatronics in the Workshop, the background darkens.
Like Freddy Frostbear, the arcade animatronics take no visible damage.
Bugs
Highscore Toy Chica's lure is accidentally called "Highscore Toy Chica Lu" in the device select screen.
8-Bit Baby is incorrectly called "8-Bit Skinned Baby" in the device select screen, despite not being a skin.
Audio
Warning: The audio clips from the following list are loud!
| Audio | Description |
| --- | --- |
| | The sound VR Toy Freddy makes when attacking the player. |
| | The sound Highscore Toy Chica makes when attacking the player. |
| | The sound System Error Toy Bonnie makes when attacking the player. |