This is a list of April Fools' jokes done by Scott Cawthon and other associated companies as fun, practical pranks for the community.
List of Jokes
April 1, 2016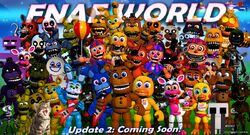 The year 2016 is when Scott launched the very first Five Nights at Freddy's April Fools' joke. On April 1st, the joke teaser was displayed on Scottgames.com, supposedly promoting the series' 57th game, which would have a science fiction genre - Five Nights at Freddy's 57: Freddy in Space. The game was claimed to be slated for release in Spring 2031. This prank was later adapted as a minigame for FNaF World's Update 2.
Additionally, on the same day, the kitten from Scott's Kitty in the Crowd appeared in FNaF World: Update 2's updated promotional image, implied to be another new playable character. The kitten was removed the next day. Despite the removal, the kitten still appeared in few minigames, including Foxy.EXE and FNaF 57: Freddy in Space.
April 1, 2017
Scott Cawthon posted the announcement from Five Nights at Freddy's: Sister Location's Steam page to reveal the movie's "official" summary. The film was jokingly planned to be the apocalyptic film taking place in 2029, where Apocalypse Freddy (who is made of liquid fur which makes him capable to turn into fur balls and other different shapes) and Apocalypse Foxy join forces with the army of animatronics to fight back the main antagonist Walton.[1]
The film's joke plot reads:
"The year is 2029, and the world is a charred ruin of what it once was. The battle against the machines had raged for a decade, and humanity had almost been wiped out. But then one man, Walton, taught humanity how to fight back, and how to smash those animatronic monsters into junk. The animatronics, led by Apocalyptic Freddy, decided that there was only one way to win the war- they had to send an animatronic back in time to kill Walton's mother's cousin, because that cousin would someday befriend Walton and encourage him to lead the resistance. Apocalyptic Freddy sends himself back in time just before humans win the war. The human resistance finds the time machine however, and reprograms Apocalyptic Foxy to be Walton's protector in the past.

Now the battle for our future will be fought in our present, as Apocalyptic Foxy does battle with Apocalyptic Freddy. But not all is as it seems. Freddy is made of liquid fur, giving him the ability to turn into fur balls, and other things made of fur. Let the battle begin!"

Scott also wrote that "not everyone will agree with this new direction for the franchise, but just think of the merch!"
The announcement thread was later removed.
April 1, 2018
While Ultimate Custom Night was under production, Scott updated his Character Guide thread on Steam by inserting some rather amusing AI descriptions for three confirmed characters:
"He appears suddenly in your office holding an alarm clock. You have only a moment to press the button and activate the alarm. If you press the button in time, you will awaken in your bed for ten seconds before falling back asleep and continuing the night."
"He will run into your office when things are looking dire and offer to help you. You can choose one of three ways for him to assist: He can block one door, clear the vents, or add 1% more power to your meter."
"He will call into your office at random, creating a lot of noise and momentarily increasing the aggressiveness of the animatronics. He cannot call, however, if Springtrap is in the vents, because he can't be in two places at the same time."

Later on, Scott replaced them with more appropriate descriptions.
Trivia
The first April Fools' joke (FNaF 57: Freddy in Space) was published on April 1, 2016 after nearly two years since the franchise's birth, but no official jokes were shown off from 2019 to 2021.
FNaF57: Freddy in Space was first mentioned by Scott Cawthon from December 12, 2015 where he jokingly stated in his Steam comment post that the game will actually come out around April 2016.[2]
The FNaF57: Freddy in Space game's "In space, no one can hear you get jumpscared!" text is in reference to the first Alien film poster's famous tagline.
The joke mechanic descriptions for Ultimate Custom Night turned out to be poking fun at debunked theories: Nightmare Freddy's mechanic is based on the "Dream Theory", Foxy's mechanic is based on the "Foxy is a Good Guy" theory (which ends up reused for Rockstar Foxy, albeit somewhat modified), and Phone Guy's mechanic is based on the theory about Phone Guy being William Afton himself.
The 2017 movie joke is a reference/parody of Terminator 2: Judgement Day, with Foxy being T-800, Freddy being T-1000, and Walton being John Connor.
References