"Oh, birthday boy! Get ready for a surpriiiise!"


Remain mindful that this page may contains spoilers for related material. If you are new to anything, like if you have not played the game or read the book yet, please read at your own risk!
Not what you were looking for? See Animatronic (disambiguation).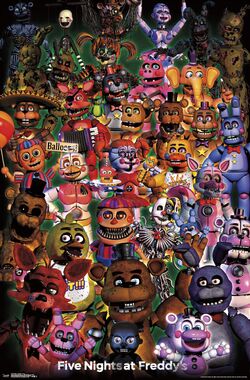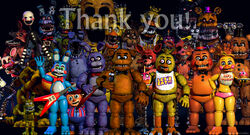 The animatronics are electro-mechanically animated robots appearing in all various shapes and sizes, as their physical characteristics can be based on animals, humans, food, and even inanimate objects.
The animatronics are created and established by robotics companies (mainly Fazbear Entertainment, Inc. and Afton Robotics, LLC), excluding the ghost-like counterparts (phantoms, shadows, etc). Most of them (if not all) serve as main antagonists of the Five Nights at Freddy's franchise.
Main Animatronics
A list of general animatronics and their close counterparts from the main series.
Classic Animatronics
Main article: Classic Animatronics
Withered Animatronics
Toy Animatronics
Main article: Toy Animatronics
Shadow Animatronics
Main article: Shadow Animatronics
Phantom Animatronics
Main article: Phantom Animatronics
Nightmare Animatronics
Main article: Nightmare Animatronics
Funtime Animatronics
Main article: Funtime Animatronics
Rockstar Animatronics
Main article: Rockstar Animatronics
Mediocre Melodies
Main article: Mediocre Melodies
Hardmode Animatronics
Main article: Hardmode Animatronics
Glamrock Animatronics
Main article: Glamrock Animatronics
Cupcake Animatronics
Main article: Cupcake Animatronics
Endoskeletons
Main article: Endoskeletons
Amalgamations
Springlock Hybrids
Main article: Springlock Suits
Control Module Animatronics
Main article: Control Module Animatronics
Unclassified Animatronics
Animatronic Skins
Main article: Animatronic Skins
A list of reskinned animatronic variants in Special Delivery used as custom plush skins.
Holiday Animatronics
Main article: Holiday Animatronics
Chocolate Animatronics
Main article: Chocolate Animatronics
Arcade Animatronics
Main article: Arcade Animatronics

8-Bit Baby

*


VR Toy Freddy

Highscore Toy Chica

System Error Toy Bonnie
Wasteland Animatronics
Main article: Wasteland Animatronics
Heatwave Animatronics
Main article: Heatwave Animatronics
Circus Animatronics
Main article: Circus Animatronics
Forest Animatronics
Main article: Forest Animatronics
Winter Animatronics
Main article: Winter Animatronics

Freddy Frostbear

*


Black Ice Frostbear

Arctic Ballora

Frostbite Balloon Boy
Aztec Animatronics
Main article: Aztec Animatronics
Cupcake Skins
Book-Exclusive Animatronics
A list of animatronics who only appeared in the book universes, mainly the novel trilogy and Fazbear Frights anthology.
The animatronics who only appeared in Fazbear Frights but not in the novel trilogy are bold/italic.
Twisted Animatronics
Main article: Twisted Animatronics
Electronic Toys
Endoskeletons
Amalgamations
Unclassified Animatronics
Trivia
The animatronics in the franchise seem to be different in design from real-life animatronics in a number of ways. This can be assumed to be done to make the game's events possible, however, there are many aesthetic difference that would not need to be changed in order to make maintain the game's possible reality.

While the animatronics in Five Nights at Freddy's series are clearly capable of walking, real-life animatronics would not be able to do this. This is because animatronics are controlled by additional mechanics that are installed into the floor. Since these extensions are part of the endoskeleton, Freddy and the others would have to dismantle themselves in order to leave the stage.
Actual Chuck E. Cheese's animatronics are not given any articulation below the hips in order to give them stability. The in-game animatronics have articulated knees, thighs, and ankles, which would make no sense from an engineering perspective.
Animatronics, by definition, are only supposed to perform specific actions. While the animatronics at Freddy's do use preset routes and positions, their movements are randomized and are implied to have some level of autonomy.
The animatronics' servos locking up from being stationary for too long makes little sense due to the way the servomotors function. They will more likely lock up due to jamming or loosen from overuse.
Freddy Fazbear's hat appears to be detachable. This would be near impossible in real life as it could slide off with the slightest movement. It is possible that the hat is attached by magnets and only falls off when enough force is applied, though this is unlikely due to it being detached in Parts/Service.

The animatronics were made by "Fazbear Entertainment" (excluding animatronics from Sister Location), but according to novel series, the original four animatronics (Freddy, Bonnie, Chica and Foxy) were made by Henry Emily.

Despite this it does not say that Golden Freddy was made by Henry.
Twisted and funtime animatronics were created by "Afton Robotics LLC".

While all animatronics have a set gender (as Scott confirmed in an email), the gender of the character Mangle appears to be completely unknown. Its gender is currently still highly disputed.

On September 17, 2015, Scott "announced" on a Steam post about Mangle's true gender:
"OK. People have been asking me about Mangle's gender for almost a year now, and I think it's time that I finally answer the burning question about whether Mangle is a boy or a girl, so that this community can finally put the matter behind them. The answer is- Yes."
Currently, it is unknown why Scott Cawthon won't fully reveal Mangle's gender, as it doesn't affect much on gameplay or lore.

The two most likely reasons for this are either lore implications (such as two souls in one body) or due to the fact that Mangle's gender is so hotly debated that just revealing it will send shockwaves through the fanbase, similar to how Scott now refuses to reveal the contents of the box from the end of Five Nights at Freddy's 4. It could also be that Mangle once did have a gender set in Scott's mind and fanbase reaction has altered his intentions of the character.
Community content is available under
CC-BY-SA
unless otherwise noted.