Not what you were looking for? See Baby (disambiguation)
8-Bit Baby is an arcade version of Circus Baby who was first added in Five Nights at Freddy's AR: Special Delivery as the fourth and last arcade animatronic of the Arcade Mayhem event. Out of all the other arcade animatronics who were animatronic skins, 8-Bit Baby is a whole new character with her own CPU included, making her the second brand-new original character added to the game, with the first being Freddy Frostbear.
8-Bit Baby made a return along with several animatronics for the second round of the "Blast from the Past" event. She reappeared for the second time in the new "Blast from the Past" event along with the other three arcade animatronics.
Physical Appearance
"An arcade-themed animatronic, with a design similar to Circus Baby's mini game in Sister Location. 8-Bit Baby is manufactured and delivered by Fazbear Funtime Service."
— The Ultimate Guide, page 263
8-Bit Baby's appearance is very unique because her model was made completely cube-shaped to look like a pixelated sprite turned into a 3D model. Her design is notably based on her original counterpart's death minigame appearance from Sister Location, but her eye color has been changed from blue to green. The way she opens her face in her jumpscare simply has two bisected segments instead of six.
In haywire mode, dubbed as Haywire 8-Bit Baby, her colors will utterly shift. Her skin turns shades of periwinkle, eyes glowing yellow, a pitch-black color for her hair, dress, and shoes, a toothy grin, and severe glitching with countless pixelated numbers and symbols.
Personality
8-Bit Baby's personality is eerily similar to that of Circus Baby's.
Role
Gameplay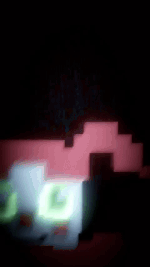 When encountered, she will appear as more aggressive than her original counterpart. The player has only a split second to look away when she haywires, and using the flashlight is almost invalid to find her. They must watch her movements and wait for her to decloak before enabling the Shocker to shock her.
In her unique defeat animation, 8-Bit Baby will explode into pixels before disappearing.
Drop Rates
| Item | Image | % Wandering | % PVP | % Rampaging |
| --- | --- | --- | --- | --- |
| Plush Suit | | 25% | 33% | 42% |
| CPU | | 20% | 31% | 39% |
| MOD | N/A | 5% | 50% | 25% |
Trivia
Like Freddy Frostbear, 8-Bit Baby takes no visible damage.
8-Bit Baby's green eye color is a reference to the evidence that Circus Baby is possessed by Elizabeth Afton, who was also seen with green eyes in Sister Location's death minigame. From the said minigame, Circus Baby was originally seen with blue eyes, while they were green from outside of the minigames.
The numbers (1, 5, 7, 8) that are shown in 8-Bit Baby's haywire mode are a reference to the Easter egg from Sister Location where they were randomly heard by Circus Baby's voice in low-pitch throughout the game.
8-Bit Baby is the only arcade animatronic to have her own music, which is "Turtle Crusher" from Sister Location.
Like all of Baby's counterparts, 8-Bit Baby is voiced by Heather Masters.
The game's codes mistakenly referred to 8-Bit Baby as a skin.
It's possible that the game she appeared in the Sister Location was an actual game made by Afton Robotics, LLC.
Gallery
The following section is rather large and has been truncated for ease of page viewing.
To view it, click the [show] tag.
---
Gameplay
Animations
Merchandise
Audio