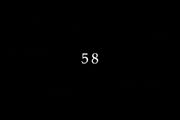 The untitled Five Nights at Freddy's game, codenamed 58, is an upcoming game under development by Scott Cawthon with no collaborative help from another company. First revealed on August 8, 2019 during the franchise's 5th anniversary, it is scheduled to be released sometime in the future.

Brightening up the 58 image from the abandoned
FNaF World
website will reveal several negative quotes one of them referencing the
FNaF Reddit
:
"
probably the worst idea he's ever had...
"
 

— fnaf fan
"
It's like he doesn't even care anymore.
"
 

— rando person
"
Five years for this?
"
 

— concerned citizen
"
Are we a joke to you?
"
 

— fnaf fan
"
stop caring after dream theory...
"
 

— reddit user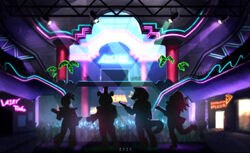 It is currently unknown if this teaser is related to 58 but will be documented here until more is known.
The teaser from Scott's main website, http://scottgames.com, shows off quite a bit more, though it is questionable if it is related to 58. It shows that the game will set inside an mall-like building with an 80's-style motif. Fazbear Pizza being a restaurant inside the mall. Also included is a lazer tag arena, an arcade, and what looks to be a cinema. In the main square of the mall, an animatronic band consisting of, presumably, new versions of Freddy Fazbear, Bonnie, Chica, and Foxy play for an excited crowd waving glowsticks. It is entirely possible some of these animatronics are now characters, however.
When looking into source code from the website, a hidden conversation between two characters can be found. It reads as such:
Stay the course.
I will.
Focus on my voice.
I will.
Don't let anyone lead you astray.
I won't.
Have you selected one?
I have.
Community content is available under
CC-BY-SA
unless otherwise noted.